Best Business Broadband Plans in NZ
Business broadband is an internet plan specifically designed for New Zealand businesses. Most broadband providers are now starting to offer business internet services across the country, especially with the growing need for enhanced security, tracking, and communication. This allowed 4G business internet to really take off in the country.
Compared to regular home broadband, business broadband plans are packed with features that help increase productivity and income. These features include static IP addresses, secured firewalls, webmail services, EFTPOS, cloud applications, guest wifi, and more! What's more is that business broadband plans are extremely varied; so whether you're in a bustling city like Auckland, or the middle of rural Otago, there's a business plan that can cater to the needs of your business.
Business broadband deals in New Zealand also come with plenty of great benefits and add-ons. Some of these include Voice over Internet Protocol landline, free high-quality modems, business-grade cabling, and more. If you want to increase the productivity and income in your company, purchase a business broadband plan today!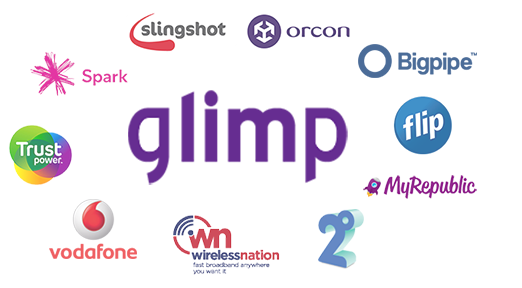 To ensure you get the most out of your time and money, use our comparison tool to get tailored results and find the best internet for small business online. Simply provide some basic details about your needs and glimp will narrow your search results within minutes!
Business broadband plan options in New Zealand
Business fibre broadband
Business fibre broadband deals are the standard for business broadband connections in New Zealand. It ranges from regular fibre at 100Mbps to ultra-fast fibre at 1Gbps to hyper fibre at 2-4Gbps (depending on your location).
This is perfect for industries that use the internet extensively, such as IT, business process outsourcing, media and communications, and more. Business fibre broadband deals are designed for large file transfers, HD video streaming, and cloud management.
Business VDSL broadband
If you're area can't take advantage of business fibre broadband deals yet, then you can look at purchasing a business VDSL broadband plan. Its speeds average at 70Mbps download and 10Mbps download, and are often paired with business-grade wifi modem.
This is suitable for small to medium enterprises where multiple people are simultaneously using the internet. Business VDSL broadband plans are designed for loading content without lag, as well as uploading and downloading large files on the web.
Business ADSL broadband
If you're on a tight budget, or your business doesn't really require the fastest broadband speeds, then you may be better off with a business ADSL broadband plan. Speeds top at 20Mbps download and 5Mbps upload (depending on your location), which is more than enough for sending email and large attachments.
This is most common for freelancers, sole traders, as well as start-ups whose nature of business only require them to use the internet on the side. For a faster and more reliable internet connection, it's best to directly connect your router to your work desktop through an ethernet cable.
Business wireless broadband
If you operate a business in rural New Zealand, or have a business that requires you constant travelling, then you should consider getting a business wireless broadband plan. Depending on how remote your location is, you can get speeds anywhere from 10-36Mbps download and 1-10Mbps upload.
As this often comes with capped data, you may be limited when it comes to web access, simple sending of emails and messages on social media, and downloading small files. This is suitable for remote businesses such as resorts, restaurants, cooperatives, and more.
Frequently Asked Questions
What is hyper fibre broadband?
When it comes to business broadband in New Zealand, hyper fibre is currently the best offering. Depending on the fibre technologies available in your area, you can get speeds of 2-4Gbps – for both upload and download – with up to 2.5-100Mbps high traffic bandwidth.
As hyper fibre technologies in the country are just on phase 1, expect even faster and lower latency broadband connections in the near future. These speeds are more than suitable for ultra-high-definition video streaming, cloud storage, video uploads, and more.
What is a DDoS protection?
To understand what a DDoS protection is, it's important to know what a DDoS attack is first. Distributed denial of service attack is an attempt to interrupt the normal traffic of a targeted server by congesting the infrastructure.
DDoS protection allows you to protect your network from these kinds of attacks by using a specialised network or a cloud-based service. With these networks, you can sense if there's an incoming threat and prevent it ahead of time. Luckily, business broadband plans are equipped with these networks, so you don't have to worry about attacks like these.
What are managed wifi solutions?
Managed wifi solutions enable organisations and businesses to improve internet performance, even without the management of an IT team. This allows for easy access to wifi networks while not compromising on security.
A managed wifi solution may include RF surveys, network design and procurement, equipment installation and management, wifi network troubleshooting and upgrades, and more. This is perfect for small to medium-sized businesses that may not have the resources to hire an IT team. To get this, you can start by comparing business broadband plans from the best business broadband providers in the country.
How much does business broadband cost?
It actually depends on how many inclusions you have in your broadband plan. Typically, businesses are getting customised business broadband deals to match their needs. However, if you're getting a pre-arranged deal by broadband providers, it can cost anywhere from $90-200 per month.
About glimp
glimp is a comparison website for utilities, such as broadband, power and gas. glimp has helped thousands of New Zealanders find the best broadband deals since January 2016. The glimp.co.nz broadband comparison and switching service is designed to help you save time and money by finding you the best broadband deal from the right provider at the best price.