Gigabit Fibre Broadband Deals NZ
As the government continues to improve and expand fibre broadband technologies throughout the country, NZ is currently one of the few countries that has gigabit fibre broadband – meaning maximum speeds of 1Gbps!
Gigabit fibre broadband is based on gigabit passive optical networks – a passive optical network that uses fibre-optic telecommunications technology to deliver broadband to Kiwis. This was first introduced in 2016, making it one of the newest and most modern internet technologies commercially available to Kiwis.
For perspective on how much faster Gigabit Fibre in Auckland or other areas is, ultra-fast broadband plans only get maximum speeds of 100Mbps or 200Mbps, depending on your plan. On the other hand, gigabit fibre broadband's top speed is 1Gbps or 1000Mbps – that's 5 to 10 times faster than its predecessor!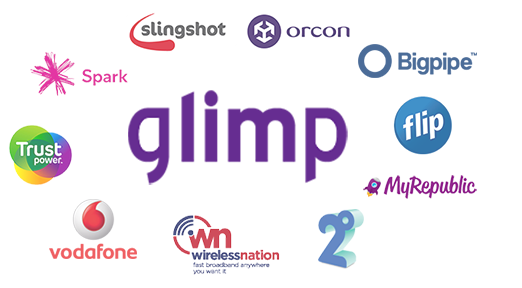 As gigabit fibre is the fastest broadband in NZ, you can easily stream, play online games, download large files, and back up your data to your heart's content! Getting this broadband plan can also come with plenty of benefits, including free installation, free modem rental, unlimited data caps… and more!
You can get Gigabit Fibre in Christchurch and other areas, allowing you to switch easily. To get big discounts and exclusive offers, make sure to use our broadband comparison tool here at glimp.
Why get a gigabit fibre broadband plan?
Do simultaneous heavy online tasks without lag
If you have a big household or live in a large flat with occupants that all regularly use the internet, then you should get a gigabit fibre broadband plan. With hyperfast speeds paired with a large amount of bandwidth, you'll never have to feel limited with using your internet again!
Future-proofing your broadband in New Zealand
As internet technology in New Zealand is evolving fast, your broadband plan today may not be sufficient in the long run. To avoid changing your broadband plan every time broadband providers release a more modern plan, get the most advanced broadband plan today with gigabit fibre in NZ!
Frequently Asked Questions
How fast is it downloading with gigabit fibre?
If you often download large files for work, school, or leisure, then gigabit fibre is your best option. To download a 2-hour full-HD movie with an average size of 10-14GB, you only need to wait about 2 minutes! To download a high-quality 3-minute song with an average size of 5-8MB, it'll only take 0.03 seconds – that's faster than a blink of an eye!
Consequently, if you need to back-up large files for work or school, you may get even faster speeds to upload it on the cloud than to transfer it on a flash drive or a hard drive.
Are gigabit fibre broadband plans expensive?
As gigabit fibre provides the fastest broadband speeds, it's only natural that they're more expensive than other broadband offerings. However, the price difference is not by a huge margin!
Some broadband providers offer them as low as $85 a month, with plenty of inclusions such as free installation, free modem rental, and more. For the speeds and the benefits that you get, the price you pay is definitely worth it!
Does gigabit fibre broadband plans really offer gigabit speeds?
While the top speeds of gigabit fibre broadband can reach 1Gbps, it's not always the case. Due to different factors such as location, time of day, network congestion, and bandwidth distribution, your broadband speeds may vary. However, most gigabit fibre plans in NZ don't go lower than 900Mbps… which is still 9 times faster than regular fibre broadband.
Will I also get gigabit speeds on wifi?
Depending on your router, mesh, placement of modem, and other factors, your gigabit wifi speeds may vary. Given that all optimum conditions are met, your wifi speeds can reach up to 850-900Mbps! That is still incredibly fast for streaming Netflix, downloading movies and TV shows, and video conferencing on your mobile devices.
Are gigabit fibre broadband plans the best option for me?
Gigabit fibre is the best offering in the country, so it's highly recommended to get it if it's available in your address. As their prices become more reasonable and bandwidth restrictions become obsolete, gigabit fibre broadband plans are only going to get better. Once you experience gigabit speeds, you can never go back!
About glimp
glimp is a comparison website for utilities, such as broadband, power and gas. glimp has helped thousands of New Zealanders find the best broadband deals since January 2016. The glimp.co.nz broadband comparison and switching service is designed to help you save time and money by finding you the best broadband deal from the right provider at the best price.