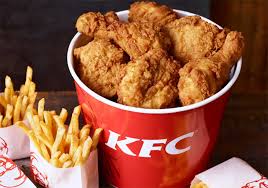 KFC coupons, vouchers and deals 2019
Have you got a craving for KFC's delicious original recipe fried chicken, snacks and burgers? You've come to the right place! Here at Glimp, we have got all of the latest coupons, vouchers and deals for you to use at your local Kentucky Fried Chicken.
Whether you're just in for a feeding for yourself or you have the whole family to feed, KFC has an extensive range of burger and chicken meal deals for everyone to enjoy. From small snack packs, to 15 piece shared buckets, to family feasts, KFC has the perfect sized meal for everyone's needs.
Make the most out of your next trip to KFC by using these great 2019 coupons! You can enjoy everything from free burgers to meal upgrades to cheap meal deals and more with the latest KFC vouchers and deals.
Check out these amazing deals below, and pop into your local KFC and see why KFC tastes so good!
Where to get your KFC coupons
KFC first hit stores in New Zealand back in 1971. Since then, they have gone on to open another 97 stores throughout the country, serving up the same delicious original recipe chicken that we all know and love.
KFC stores are scattered all over the North and South Island; you'll find stores in Auckland, Wellington, Christchurch, Dunedin, Hamilton, Tauranga and many more locations. You can use the KFC Finder to find the exact location of your nearest store - the signature KFC fried chicken is closer than you think!
It's simple enough to redeem your KFC coupons and vouchers, and they can be used whether you go in store or through the drive-thru. Using the coupon that you've either printed off from your computer or a screenshot from your phone, place your order and be ready to tell them the voucher/s you're wanting to redeem.
Unfortunately these deals don't last forever, so it's worthwhile to check the expiry dates on them. These coupons can be saved and used multiple times, and there's even the option to share these great value deals with your friends and family!
Get more with Glimp
We love helping Kiwis save money on their favourite fast foods - but did you know we can help you save money on your electricity, broadband, credit cards and mobile phone plans as well? Here at Glimp, we've helped thousands of everyday Kiwis just like yourself save hundreds of dollars on their everyday bills.
Use our online comparison tool to compare broadband and electricity deals, to find out if you're getting the best price on your utilities. We'll show you the latest deals from New Zealand's leading providers and with all the details you need to know. It really is easy to compare, switch and save with us here at Glimp!