Cheap Business Internet in NZ
Do you want to connect your business to the internet? You may want to get a cheap business internet plan for your operations. Whether you're operating a crafts or telecommunications business, having broadband is an essential step to store data, research new technologies, process documents, communicate with your clients, and many more!
Unlike home broadband, business broadband needs to have more comprehensive security options as well as be more steady and more reliable. This is because businesses have plenty of confidential data on their network. To get the work done during business hours is also essential, that's why it must be stable at all times.
Luckily, NZ's leading providers are providing specialised business internet plans at affordable prices. They pack their plans with great extras and freebies such as webmail services, static IP addresses, secured firewall, and more! Most of all, they're dedicated to expanding their business broadband plans even in remote communities, so you don't have to worry about connecting to the internet anywhere!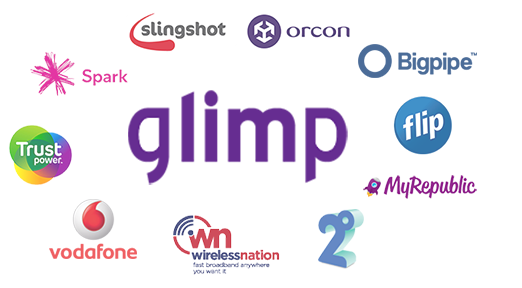 These business internet plans often come with a wide variety of options, whether you need an unlimited, naked, no contract, landline, fibre, VDSL, ADSL, or wireless broadband plan, they have something to offer just for you.
Operate your business efficiently with a specialised business broadband plan that ticks all the right boxes. To know more about cheap business internet services in your area using glimp's comparison tool.
Why get a personalised business internet?
Get special features to help your business
While getting a home broadband plan can be sufficient for business, getting a plan with features specifically for business is more sustainable. A business broadband plan is specially designed to help with business operations: they're less likely to be the cause for loss in income, workday, and productivity. To find out if the features that you need for your business are offered by broadband providers in your area, use our broadband comparison tool here at glimp.
Be more productive with a business internet plan
With a business internet plan, you can assure that tasks are accomplished on time. As some plans offered by the leading broadband providers in the country include tracking and management features, you can monitor that your team is on schedule for whatever tasks they need to accomplish – plus, business plans aren't expensive either! To get a cheap internet plan that matches your needs, simply compare your options with glimp.
Frequently Asked Questions
What are business internet plans?
Business internet plans are broadband plans that specifically cater to the needs of businesses. They're packed with special features that deliver the best internet speeds, reliability, service, and restoration time to ensure the prime performance which is essential to businesses.
Depending on your location, you can get anywhere from 940-4,000Mbps through business-grade fibre broadband plans. With the growing needs of the internet across all industries in New Zealand, leading broadband companies are working to develop hyper fibre broadband with speeds topping at 8,000Mbps.
Are business plans expensive?
Compared to home broadband plans, business internet plans are more expensive. However, when you consider the benefits and the inclusions that you get for this plan, they're competitively and reasonably priced. Of course, the faster your broadband is, the more expensive your broadband fees become.
Fortunately, there are different tiers of business broadband plan types ranging from those fit for freelancers to large enterprises. To ensure that you're getting something appropriate for you, simply tell us some basic details when you compare with glimp.
What internet speed will I need for my business?
Ultimately, the best internet plan will depend on your needs. If you're only a small business, speeds as fast as 940Mbps may be just enough to satisfy all your needs. If you're a medium enterprise or branch office, then a plan with speeds of 2,00Mbps should be sufficient for your operations.
To get a cheap business internet and phone service that suits your business needs, compare the best options here at glimp.
About glimp
glimp is a comparison website for utilities, such as broadband, power and gas. glimp has helped thousands of New Zealanders find the best broadband deals since January 2016. The glimp.co.nz broadband comparison and switching service is designed to help you save time and money by finding you the best broadband deal from the right provider at the best price.