HMA VPN
HideMyAss or HMA is a VPN founded by Jack Cator in 2005 first as a web proxy website to break his school firewalls. He believed that privacy is a right and should be inhibited in internet freedom. It's the same belief that HMA VPN has been built on.
Today, they have over 1100 servers in more than 290 locations worldwide to provide you with the security solution you need. HMA VPN downloads in most apps, operating systems, and platforms so you can secure many of your devices. You can access free HMA privacy tools — IP checker, DNS leak test, and WebRTC Test — and learn how vulnerable your data and device are.
If you want to try out HMA's extensions and features, you can opt for a free trial before subscribing for an HMA Pro VPN app that secures you over a certain period of time. Choose the best HMA subscription for your needs and get a secure connection now! Compare VPN deals with glimp and find out if HMA VPN is best suited for your online security needs!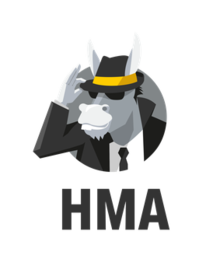 Why get HMA VPN for your device?
HMA VPN is operated and managed by real tech experts, so you can rest assured of being assisted whenever you need to be. You can connect up to 5 devices at the same time without worrying about IP addresses or activity logging. With HMA VPN downloaded on your devices, you can bypass government restrictions and geo-blocked content. What's more, you can have the privacy and security you want without ever being tracked. P2P servers will mask your IP address well, especially when you need to move files in a bulk, without speed loss.
Get maximum security wherever, whenever
There's always an HMA VPN to download in your browsers, devices, and apps. When you're always on the go, you can secure your mobile phone through the HMA Pro VPN app. If you need secure browsing, then install the VPN for Chrome or Firefox. You can even download a VPN for Xbox and your Android TV!
HMA Subscriptions
Plans
You can get access to HMA servers worldwide along with 20 Gbps connection speeds, split-tunneling, and kill switch for your devices with the following HMA subscriptions:
36-Month Plan for NZ $4.99 per month
12-Month plan for NZ $6.99 per month
1-Month Plan for NZ $17.99 per month
You can also secure your business data with Business VPN subscriptions, depending on the number of connections you want — or you can customise your plan and get a tailored quote instead
Features
Any HMA VPN downloaded on your device has the following features:
30-day money-back guarantee
No logs policy
Smart kill switch to prevent data leaks when your connection to a VPN server drops
Split-tunneling to identify which applications need to go through HMA VPN
IP Shuffle to randomise your IP address anywhere from every 10 minutes to once a day DNS leak protection
256-bit AES encryption that's used in military and financial facilities