Trustpower Power Plans
Trustpower do everything they can to keep things simple for you. From calculating the prices for you to no fuss contracts, they are committed to making your power easy and stress-free.
On top of their simple processes, Trustpower power plans offer great value for money. Trustpower understand the needs of its consumers. You can even score big discounts when you bundle your power with broadband, gas and phone plans. No matter what plan you choose with Trustpower company, one thing is for sure; you can save more as there are no hidden charges in the fine print of your contract! Just simple, affordable power plans that you can rely on.
Get some of the best value electricity plans just like the ones that Trustpower offers by comparing power companies across NZ today!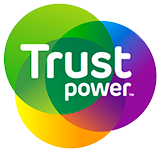 Why sign up with Trustpower?
Trustpower company know that bills can be a pain, so they try to make everything as easy as possible. They help you save by bundling your power, gas, broadband and home landline plans together; so that you can go to one place for all of your utilities and reap the savings at the same time. Trustpower power plans are suited for home and business use.
Their power plans are some of the cheapest in NZ, so see if you can get it in your area! Simply enter your address on the glimp comparison tool to see what's available for your household.
Trustpower Rates
Trustpower power rates are quoted in cents per kilowatt-hour. Calculating this may be a hard task for some Kiwis, so you have the option to use their plan builder to work out what you'll be paying for your daily charge and price per unit.
You can also check the standard or low user rate using their usage calculator included in the plan builder, as this will all affect your rates.
Trustpower Contact
Trustpower company knows that you want something simple, so they make their customer service lines simple too. Their 0800 number will be answered by real people at the other end of the phone, so you can trust that any problems will be sorted promptly by a trained representative.
Plus, Trustpower also have a callback service! You can get them to call you back at the most convenient time for you.
Trustpower Power Plans NZ - Rates, Deals, Price
Standard user rate
If you live in a household with more than 2 people, you'll want to sign up for the standard user rates. Trustpower help you to be cost-efficient with the appropriate plan. You'll pay a higher fixed daily charge with this plan, but you'll be paying less for each unit of power used. If you use more than 8000Kwh per year (or 9000Kwh if you live in the bottom half of the South Island), the standard user rate will be the most cost-effective.
Low user rate
If you live in a household with two or less people, or if you're incredibly energy efficient, then it's best if you sign up for a low user rate plan. Trustpower company make power and energy accessible. With this plan, Trustpower charge a higher price per unit used, but you'll be paying a smaller daily charge. If you use less than 8000Kwh per year, then the low user rate will be the most cost-effective.