Trustpower Power plans
Trustpower keep everything simple, you sign up for power and all you need to do is sign up as either a standard user or a low user.
This is something that every provider will ask of you so they can calculate the price of your power. There aren't any complicated contracts to read the fine print of, you simply pay what you use and that's it. If you want to earn discounts, then you can bundle your Trustpower NZ power plan with other broadband, gas and phone plans. Get some of the cheapest and most simple electricity in NZ. Compare electricity companies across NZ to see if Trustpower is the right company for you.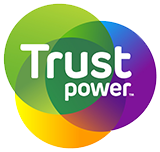 Why sign up with Trustpower?
Trustpower know that bills can be a pain, so they try to make everything as easy as possible.
Their plan is to make bundling power, gas, broadband and homeline plans so that you can go to one place for all of your utilities and reap the savings benefits at the same time. Amongst their offerings are cheap power plans, and here you can compare power plans with any other provider.
Trustpower rates
Electricity rate quotes come in cents per kilowatt hour (unit) and you can use the Trustpower plan builder to work out what you'll be paying, for daily charge and price per unit.
You can check the standard or low user rate using the usage calculator included in the plan builder, as this will affect your rates.
Trustpower contact
Trustpower know that what you want is something simple, an 0800 number that you can call and have real people at the other end of the phone.
They also have a callback service, so you can get them to call you back when it's convenient for you.
Trustpower Power Plans
Standard user rate
If you are a household of more than 2 people, you'll probably want to sign up for the standard user rates. This means you'll pay a higher fixed daily charge, but you'll be paying less for each unit of power used. If you use more than 8000Kwh per year (or 9000Kwh if you live in the bottom half of the South Island), the standard user rate will be the most cost-effective. On the Trustpower website you can compare power prices between the low user and the standard user.
Low user rate
If you live in a household with less than two people, or you are incredibly energy efficient. Then it'll be best if you sign up for low user rate plan, you'll be charged a higher price per unit used, but you'll be paying a smaller daily charge. If you use less than 8000Kwh per year (or 9000 living in the bottom half of the South Island), then the low user rate will be the most cost-effective. On a low user rate you'll be using less electricity but you can still make the most of Trustpower deals.
Compare Trustpower power plans now.
Sign up to a better power plan with Trustpower today.