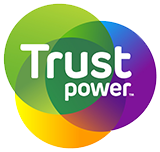 Trustpower
Trustpower NZ is an electricity generation and electricity retailing company, listed on the New Zealand stock exchange.
Trustpower is New Zealand's fifth largest electricity generator (in terms of MW capacity, GWh output and revenue) and the fourth largest electricity retailer (in customer numbers), serving 280,000 customers throughout New Zealand. The company owns and operates 34 power stations. It generates 100% of its electricity using renewable energy sources, primarily hydro-electric but also wind farms.
Trustpower's current development projects in New Zealand include the Awhitu Wind Farm near Waiuku, the Wairau Hydro Scheme near Blenheim and the Kaiwera Downs Wind Farm in Southland.
Not only do Trustpower provide electricity and gas, they can also supply broadband services to the following regions: Auckland, Hamilton, Tauranga, Rotorua, Taupo, Hawkes Bay, Palmerston North, Wanganui, Kapiti Coast, Wellington and the rest of New Zealand.
Trustpower reviews have shown they are one of NZ's leading electricity companies. You can easily compare power companies from all NZ companies including Trustpower using our online comparison tool - get started today!
Why choose Trustpower?
Trusted by over 280,000 customers across the country, it's easy to see why Trustpower are so popular with New Zealanders. When you sign up with Trustpower, the benefits quickly add up - you can save big bucks by paying your bills on time and bundling your internet, phone, power and gas together.
Whatever plan you're on, you'll receive just one monthly bill from Trustpower, and you'll also get an automatic 15% prompt payment discount!
You can call the Trustpower contact number Monday to Friday for help on deciding which power plan will work best for your household. While Trustpower are located in Tauranga, they provide reliable and easy to manage services throughout New Zealand.
Trustpower rates
Wanting to compare Trustpower rates to find the best prices? At Trustpower, they aim to provide some of the best power prices in the country, as well as the opportunity to bundle other services for even better savings.
To find out prices to power your home through Trustpower NZ, you can compare electricity prices online using our comparison tool, or talk to a Trustpower representative by calling 0800 36 98 45.
Trustpower deals
New customers who sign up to a power + unlimited data broadband on a 24 month plan with Trustpower get to choose a new joining reward for FREE! Plus you'll get $50 of free account credit when you sign up online. You can choose between a 43" Smart TV, a Samsung Fridge, a Samsung Washing Machine or a Samsung Soundbar!
Is Trustpower right for me?
With so much to gain from signing up to Trustpower, it's no wonder that over 250,000 customers have already signed up with them! You can easily find out if Trustpower is right for your home by comparing their NZ electricity prices online.
Just head on over to our power comparison tool, provide us with a few details about your electricity needs, and we'll show you the latest plans available in your area.