AMI Car Insurance
AMI Insurance are one of the leading insurance providers in New Zealand, with over 500,000 customers across 60 stores. They've been providing Kiwis with car insurance policies since they started out as 'South Island Motor Union' in 1926.

They offer three types of car insurance policies: comprehensive, third party, and third-party fire and theft. Each plan includes a wide range of benefits such as multiple policy discounts and no claims bonus protection. They also secure your policy so that you can benefit from the AMI breakdown service if you find yourself in a tough spot.

Find out how AMI car insurance policies fare against the top insurance companies in New Zealand. Compare the best AMI car insurance online quotes here with glimp!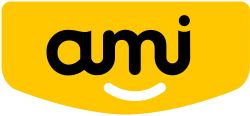 Why get car insurance with AMI?
If you want complete coverage within your car insurance policy, consider getting it from AMI Car Insurance. You can choose from one of their great value policies, plus enjoy their exclusive benefits and package discounts.

If you choose to get multiple types of insurance along with your AMI vehicle insurance, you can take advantage of even lower prices. They also give you the option to choose the excess yourself. For example, if you choose a comprehensive plan, your excess can be as low as $100.

Another great benefit is that they make switching insurance to them easy too! All it takes is a few minutes, especially if you sign up using our glimp comparison tool.
AMI Standard Breakdown Service
AMI Insurance NZ offer two different types of their breakdown service: standard and premium. Both are exclusively available to those who choose a comprehensive car insurance policy.

The breakdown service will provide help to anyone who is driving your car at any time of the day. They can help you out with changing a tyre, flat battery, emergency fuel, towing, keys locked in the vehicle, mechanical advice, and more.
AMI Car Insurance Quotes
AMI makes it incredibly easy for you to get a vehicle insurance policy quote. You can get it on their website through the AMI insurance quote page.

However, if you want to have an easier comparison of AMI car insurance among other providers in NZ, you can do it here at glimp.
Types of AMI Car Insurance Policies NZ - Quotes, Interest Rates
Comprehensive Car Insurance
An AMI comprehensive car insurance policy will have you covered in almost every situation. If you're in an accident, AMI's comprehensive car insurance covers damages to your vehicle as well as anyone else's vehicle or property. This plan also offers extras like a towing service, transport home, and a replacement vehicle.
Third-party Car Insurance
The third-party car insurance policy from AMI NZ covers anyone involved in an accident. They will pay up to $20 million for other people's vehicles or property – however, it will not cover your vehicle. If you own a low-value vehicle, it may be worth it to protect yourself from the liability of damaging other people's vehicles or property.
Third-party, Fire and Theft Car Insurance
Just like the third party policy offered by AMI Insurance NZ, the third party, fire, and theft policy covers other people's vehicles and property up to $20 million if you're involved in an accident. Besides accident damages, this policy also includes protection from vehicle theft and fire. If something terrible happens, you can always make an AMI car insurance claim to help you get back up.
Compare AMI car insurance policies now.
Find a better cover for your vehicle with AMI.