Cheapest Fibre Broadband Deals NZ
As the New Zealand government continues to roll out fibre throughout the country, it's becoming even easier for Kiwis to find the cheapest fibre broadband in NZ.
When it first came out, fibre broadband was an expensive choice, as it utilised newer and more expensive fibre optic cables. However, it has become cheaper over the years thanks to the Ultra-Fast Broadband Initiative. Fibre has become more widely available throughout the country as well – available not only in the main cities, but also in rural towns.
Depending on your fibre broadband type, you can get speeds of 100Mbps to 1Gbps download and 20Mbps to 500Mbps upload, for as low as $60 a month! Considering the speeds and reliability that you get, it's currently the best internet option in NZ. Plus, these speeds are more than enough for simultaneous heavy gaming, streaming, playing, downloading, and more!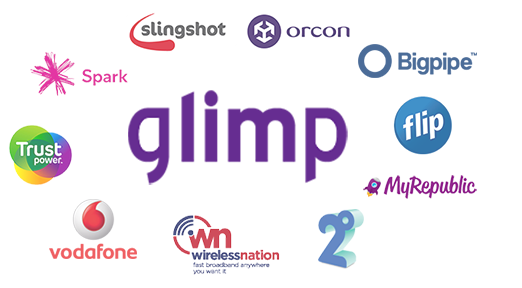 Of course, these speeds aren't much of a benefit if it's limited – that's why many of NZ's leading providers are now offering unlimited fibre plans! You can say goodbye to waiting for your content to load and having your data run off in the middle of the month. These plans also come with plenty of benefits, such as three months of free Netflix, free modern routers, and free WiFi mesh extenders!
If you're looking for the best value for money plans in New Zealand, look out for the cheapest fibre broadband deals in your area. Compare the best and most affordable broadband deals today using our broadband comparison tool here at glimp!
Why get a fibre broadband plan in New Zealand?
Affordable prices made even cheaper
The country's leading broadband providers are already offering some of the cheapest fibre broadband deals – but the great news is that you can get them at even cheaper prices with glimp! We list exclusive deals, bundles, discounts, and promotional offers that you won't see anywhere else – even on the provider's website!
The fastest way to connect online
Fibre broadband currently offers the best and fastest speeds in New Zealand. As it becomes more available throughout the country, your home may now be able to take advantage of this broadband plan. If it's available in your location, it's highly recommended to switch to fibre now. Don't put off your switch and purchase a plan with glimp today!
Frequently Asked Questions
What's the difference between copper and fibre broadband?
Copper broadband – as the name suggests – utilises copper wires to deliver broadband. These wires are connected to the roadside cabinet, which delivers telephone and internet services to your home. Some examples of this broadband type are ADSL and VDSL, with speeds ranging from 10Mbps to 70Mbps.
Fibre broadband, on the other hand, uses fibre optic cables to deliver broadband. These are less prone to environmental factors such as natural disasters and corrosion – making them more reliable even during tough times. Fibre broadband can provide speeds of up to 1GBps, depending on your broadband plan, location, and time of day.
What providers offer fibre broadband?
Both local and national providers are now offering comprehensive fibre broadband plans – so whether you're in an urban or rural area, there's a deal to suit your needs. These deals can also come with free standard installation, free modem rental, unlimited data caps, and open terms – so you can customise your plan the way you want!
Best of all, fibre plans come at affordable prices, ranging from only $40 to $128 a month! If you want to score the cheapest fibre broadband deal in your area from a trusted provider, then make sure to compare your options with glimp.
What's the cheapest fibre broadband deal?
Ultimately, it depends on your location and inclusions that you choose in your plan. If you choose to include extras like a home landline or subscriptions to streaming services, you may end up with a more expensive broadband plan.
To ensure that you get the cheapest fibre broadband plan for your needs, choose a naked fibre broadband plan by comparing with glimp.
Can I get fibre in my area?
To check if you can take advantage of fibre broadband for your home, use our broadband checker. Generally, this only applies for rural towns and remote communities where fibre hasn't rolled out yet.
Some areas may also experience faster fibre broadband speeds than others, as more modern fibre technologies have been rolled out in those places. For example, the standard fibre broadband speeds in Christchurch peaks at 200Mbps, while Dunedin (Gigatown) peaks at 900Mbps.
About glimp
glimp is a comparison website for utilities, such as broadband, power and gas. glimp has helped thousands of New Zealanders find the best broadband deals since January 2016. The glimp.co.nz broadband comparison and switching service is designed to help you save time and money by finding you the best broadband deal from the right provider at the best price.