Orcon Fibre
Orcon is New Zealand's first internet service company to offer ultrafast fibre broadband. They've developed different solutions over the years to make their fibre offerings even more creative.

They want Kiwis to understand what it means to have fibre internet that meets global standards. While fibre is their main focus, Orcon also provides ADSL, VDSL, among other connections to meet the needs of every customer.

Note: This provider is no longer available for comparison here at glimp.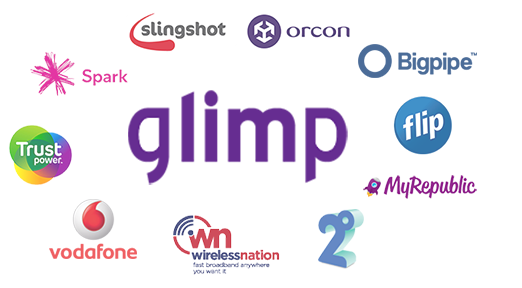 Why sign up with Orcon Fibre?
Orcon provides customer-focused services on top of ultrafast internet. They not only provide fast broadband, but they also introduce Kiwis to new technologies such as Google Home and Apple TV.

Orcon NZ is especially proud of its fibre broadband service. Together with the national government, they're expanding fibre infrastructure across the country so even Kiwis in distant areas can benefit from ultrafast fibre broadband.
Types of Orcon Fibre Plans
Fibre 100
Fibre 100 is the most common way to enjoy Ultra-Fast Broadband (UFB). With download speeds of up to 100Mbps, you may enjoy high-definition internet access. It's ideal for streaming, gaming, and browsing the web without worrying about connection drops. Fibre 100 helps with getting the most out of your gadget, gaming console, or PC.
Fibre 200
With download speeds of up to 200Mbps, you can play movies and games in full high definition resolution. You can get this plan for $99.95 per month on a 12-month term, including a free wireless router, a voicemail package for an extra $4, and free standard UFB installation!
Fibre Pro
Fibre Pro is delivered using Orcon's Gigabit network with download speeds between 700 and 900Mbps and upload speeds up to 500Mbps. Get this plan for only $109.95 per month including a free wireless router rental and a standard fibre installation.
Frequently Asked Questions
Can I use my old router with Orcon Fibre?
You can continue using your current modem while connected to Orcon Fibre. However, they don't provide setting up your WiFi or troubleshooting support for modems that are not supplied by Orcon.

You may opt for a Google Router rental for free ($14.95 delivery and packaging cost applies). If you cancel your plan, you should return all Orcon routers or pay $150 to cover the router's cost.
Do I have to pay a termination fee if I cancel my fibre plan?
If you decide to cancel your fibre service within your contract period, you're required to pay a $250 early termination fee.
What other benefits can I get when I connect to Orcon Fibre?
They provide a 4G Backup service, which gives you a mobile connection inside the modem that turns on if there's a connection outage. This keeps you online until your fibre connection is restored.