Genesis Energy Power Plans
Genesis Energy is one of NZ's biggest energy providers. They sell electricity, natural gas and LPG through their two retail brands; Genesis Energy and Energy Online.
Genesis Energy company prides themselves on being, 'New Zealand's largest energy retailer', with over 500,000 active customers throughout the country. They achieved this by offering a wide range of power options from different renewable sources such as hydropower and wind.
Genesis Energy are only one of the many power retailers across New Zealand, so it can seem a little daunting to choose one. This is why glimp's online comparison tool was created; so you can compare electricity prices in NZ with ease.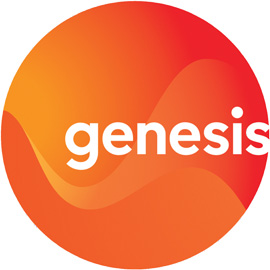 Why Sign Up With Genesis Energy?
Genesis Energy company are one of the largest power companies in New Zealand. On top of their no contract and fixed-term plans, they also offer exclusive perks for their customers.
By signing up with them, you can enjoy FlyBuys points, power shouts, fuel deals, free credits and more! Plus, they also offer bundled utilities, so you only have to deal with one bill for a hassle-free transaction.
Still not sure if Genesis Energy is the right provider for you? You can always compare power companies using the glimp power comparison tool to find out more.
Genesis Energy Rates
Standard power pricing with Genesis Energy starts at around $2 per day. However, these power prices may change, depending on the market.
Genesis Energy always makes sure that their retail prices remain steady so that you won't be charged astronomically for your power usage.
Genesis Energy Power Shout
Power Shout is a thank-you perk for signing up with Genesis Energy. It involves 'shouting' you free power at a certain time of your choosing
Genesis Energy gives you the power to customise your free power to whatever time suits you. There are no worries about the spike in costs as the total power usage will be credited back to you on your next invoice.
Genesis Energy Plans NZ - Rates, Deals, Price
Electricity Flexibility Plan
The Flexibility plan is Genesis Energy's no contract, no-questions-asked power plan. This plan comes with several perks such as earning double FlyBuys points and double Power Shouts. This is a great option for those who'd prefer not to be locked into a contract or those who move frequently.
$100 Electricity Credit Plan
Genesis Energy's company rewards you for committing to a fixed-term plan by giving you a $300 worth of free electricity, gas, and fuel credit upon signing up – that's $100 in power credits! This is a great solution for individuals who are happy to get multiple utilities from the same source, with the added value on their fixed term plan.