Flick Electric Power Plans
Flick Electric NZ aims to provide transparent, fair, and honest services with all their power plan offerings for New Zealanders.
The company's journey began back in 2014, when six Wellingtonians decided to make a change in the industry. The result is a business that has grown significantly in just over 6 years! Although they're growing at a fast pace, their fundamentals have remained the same.
The Flick Electric company pride themselves on offering a fairer deal through New Zealand's wholesale power market. They are proud to be certified as a CarboNZero company and have been given the ticket as a fair and inclusive employer, on top of paying staff a living wage.
Flick Electric have a power plan to suit the needs of all types of households. You can easily compare them to the other electricity prices in NZ by using glimp's comparison tool.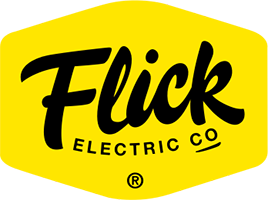 Why sign up with Flick Electric?
If you're sick of providers taking advantage of your power and want to get an honest deal for a change, then you should sign up with Flick Electric.
They are tech-savvy, innovative, and quirky, but more fundamentally – they are backed by their honest core belief of power in New Zealand. If you choose the plans of Flick Electric's company, you'll soon see why so many Kiwis love them, as they strive to be the fairest every time.
Are you still unsure about switching to Flick Electric? You can compare them with other NZ power companies to find out if Flick Electric's plans offer the best deals for you.
Flick Electric Rates
For their Freestyle plans, Flick Electric's rates mirror those of the wholesale marketplace.
However, on the FIXIE plan, Flick Electric creates estimated prices based on your average usage and the most common meter configurations in your network. For those living in places where peak and off-peak prices are available, Flick Electric also factors that into consideration to calculate a transparent estimate for you.
Flick Electric Plans NZ - Rates, Deals, Price
Freestyle Plan
If you want to give the game of real-time power pricing a try, then the Flick Electric Freestyle plan is for you. Every 30 minutes, the price of your power will update, reflecting the real-time price of wholesale power. This means that you can have more control over your usage and use more electricity when it's cheaper and less when it's expensive.
FIXIE Plan
The second of the two Flick Electric power plans is the FIXIE plan. With this plan, you'll have a secure price that you'll pay per unit, which will stay fixed for 6 months. This way, you'll always have a steady bill with no nasty surprises. The bonus is – it's easy to switch out of the plan too! The only thing fixed is the price per unit, so there's no contract to keep you locked up.