Genesis Energy Power Plans
Genesis Energy NZ is an offshoot of its parent company of the same name. The Genesis energy parent company also runs Energy Online.
Genesis power lays claim to the title of 'New Zealand's largest energy retailer' with around 500,000 customers according to its website. The company generates power utilising 'thermal and renewable' sources from all around the country. Genesis electricity comes in two main plans, Flexibility and the $100 Free Credit plan. Genesis Energy is one of many power retailers from all across New Zealand - it can be a lot to choose from, and glimp is here to help. Compare electricity prices in NZ now, including Genesis power, using glimp.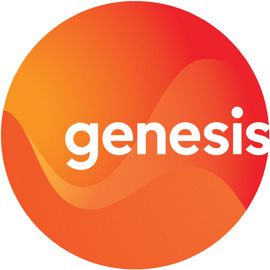 Why Sign Up With Genesis Energy?
Genesis Energy is one of the largest power companies in New Zealand, and offers numerous perks to its no contract and fixed term customers.
Enjoy FlyBuys points, Power shouts, fuel deals, free credit on signup and bundled utilities all under one provider. Still not sure? Compare power companies now with glimp.
Genesis Energy Rates
Standard power pricing with Genesis Energy starts at around $2 per day.
Power prices change depending on the market, but the provider's retail price usually remains steady in relation to that.
Genesis Energy Power Shout
Genesis Energy Power Shout is a perk you recieve with Genesis.
It involves the provider 'shouting' you power at a certain time of your choosing - you can customise the time you get free power to whenever suits you, and the total power usage will be credited back to you on your next invoice.
Genesis Energy Plans
Electricity Flexibility Plan
The Flexibility plan is Genesis Energy's no contract, no questions asked power plan. This plan also comes with a number of perks, such as earning double FlyBuys points and double Power Shouts. This is a great option for those who'd prefer not to be locked in to a contract.
$100 Electricity Credit Plan
Genesis rewards those who commit to a fixed term plan by giving $300 worth of free electricity, gas and fuel credit when you sign up (that's $100 power credit total). This is a great solution for individuals who are happy to get multiple utilities from the same source with added value on a fixed term plan.
Compare Genesis Energy power plans now.
See how Genesis measures up with the competition.