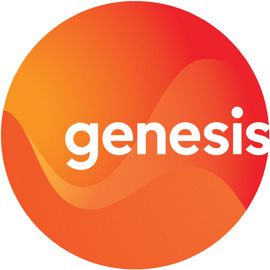 Genesis Energy
Genesis Energy NZ is a diversified energy company. Genesis sell electricity, natural gas and LPG through their Customer Experience business. They generate electricity, and trade electricity and natural gas, through our Energy Management business. Genesis also has a 31% interest in the Kupe Joint Venture which owns the Kupe oil and gas field.
When you compare power companies online, you'll soon see that Genesis Energy is one of the leading electricity suppliers in the country. They are actually New Zealand's largest electricity and gas retailer, supplying energy through our two retail brands – Genesis Energy and Energy Online – to more than 650,000 customer connections across New Zealand.
Genesis Energy is focused on attracting and keeping valuable residential, commercial and industrial customers throughout the country, and providing their energy services nationwide.
Why sign up with Genesis?
At Genesis Energy, they believe they have a responsibility to their customers to ensure that they meet their electricity and gas requirements, as well as provide them with first class customer service. They are constantly striving to rethink, refresh and reimagine how they use energy in everyday life.
As a customer of Genesis Energy, you'll enjoy prompt payment discounts, power shouts and earn FlyBuys points. You can choose to sign up to a no fixed term electricity plan, or sign up for 24 months and enjoy $150 of free starting credit on your account!
They can also supply piped-gas to the following regions: Auckland, Hamilton, Tauranga, Rotorua, Taupo, Hawkes Bay, Manawatu, Wanganui, Kapiti Coast & the Wellington region. In the South Island, Genesis can supply a bottled-gas service to all major areas including Nelson, Christchurch, Central Otago & Dunedin.
If you're wanting a reaffirmation about Genesis' performance as power company, have a look at our Genesis Energy review. Here you'll find our ratings out of 5 for several factors including how the switch went, the customer service and the overall satisfaction. You can also find reviews done by other customers too!
Genesis Energy Rates
Genesis power rates depend on where you are located in New Zealand, and what kind of electricity plan you'd like to sign up to. You can choose between their Price Park & Flexible Plans or their eSaver Plan, and then sign up for either a standard or low usage account.
To get exact rates for your area, you can call the Genesis Energy phone number on 0800 300 400 or compare electricity rates for Genesis here.
Compare Genesis Energy Plans
Looking for the best deal on electricity and gas plans from Genesis Energy? Here at Glimp, we believe all Kiwis should get a fair deal on their power bill. With our online comparison tool, you can compare power prices online and easily find the right plan for power needs and budget.
Are you looking for Genesis electricity plans in Auckland or Wellington? Genesis electricity plans in Hamilton or Dunedin? No matter where you are in New Zealand, we can help you find the best electricity deals from Genesis.
We've already helped thousands of everyday Kiwis just like yourself find a better deal on their power, and now it's your turn to compare, switch and start saving!