Pet-n-Sur Pet Insurance
Pet-n-Sur is a great option for cover for family pets like dogs, cats, and even rabbits! It's 100% Kiwi-owned and operated that ensures their commitment to the local community. Making Pet-n-Sur claims is also easy as the team underwrites their own policies; no third-party entities are involved, reducing the complexity in acquiring the best cover for your beloved friend!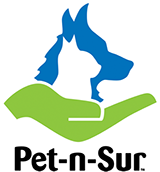 Why choose Pet-n-Sur NZ?
Pet-n-Sur promises everyday protection to your beloved pet. They take pride in the thousands of animal lovers choosing their insurance policies, thanks to the benefits provided below:
Peace of mind protection from a trusted pet insurance brand in NZ.
Hassle-free processing and payment of Pet-n-sur claims thanks to their own underwritten policies.
Efficient claims processing, enabling Pet-n-sur to pay over $15.5M of medical bills for pets, and settling 98% of claims within 14 days and 99.5% in 21 days.
Positive testimonials from previous clients
Ensured protections for pets all the way to their older years.
A variety of cover options ranging from surgical plans to mortality cover, with fixed Co-Pay options for any unexpected medical expenses.
Easy premium payments with special rates for multiple insured pets.
Cover for lost pet and funeral costs as well as maintenance options like neutering and microchipping.
Equine cover for vet expenses.
Pet-n-Sur's support for DogsNZ, the Companion Animal Council, LandSAR Search Dogs, and Local Council Shelters.
Pet-n-Sur Insurance NZ
Pet-n-Sur has put together a dynamic, interactive sheet for their pet insurance policies tailor-made to your pet's type and breed. Choose from six different levels of cover ranging from Surgery, Surgery Plus, Rhodium, Silver, Gold, or Platinum plans, depending on your pet's needs.
Pet-n-Sur offers these plans for the following animals: dogs, cats, rabbits, and horses. They've laid out a comprehensive table that takes into account your pet's breed and age to determine the cost of coverage and inclusions. Compare how their plans stack up against other providers and find Pet n Sure quotes today using our insurance tools here at glimp!