Kogan Mobile Plans NZ
Kogan Mobile Network offers one of the cheapest prepay plans in New Zealand. Originally founded in Australia, Kogan branched out to New Zealand in 2019 with a goal to become a new player in the mobile virtual network operator industry
Kogan Mobile offer detailed and comprehensive prepay plans, with varying prices and contract periods. Kogan may not give lots of extras like some other providers do, but what they can offer is simple, straightforward mobile plans. You can even score a discounted plan if you choose a 12-month contract with them!
Compare Kogan prepay mobile plans using glimp to find out your best options from mobile plan providers throughout NZ.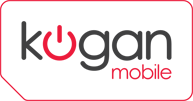 Why Sign Up with Kogan?
Kogan NZ is one of the best options out there if you want a long-term prepay plan. As an added bonus, their plans include unlimited calling and texting to Australia and New Zealand! Kogan Mobile NZ isn't about the fancy bells and whistles – just what you need for a mobile plan.
When signing up for Kogan Mobile Coverage, you can say goodbye to hidden fees and shocking bill statements too. All you get is fast and reliable 4G network speeds with a big internet data cap. Switching is made easier as well - simply purchase the SIM card, activate it with few easy steps, and you're all set!
Is Kogan Mobile the best provider for you?
Kogan Mobile NZ is perfect if you're looking for an extensive prepay plan at an affordable price. If you have relatives that live in Australia, this is the best mobile plan purchase for you.
As well as their prepay mobile plans, Kogan NZ also have international roaming plans. If you purchase it together with any of the Kogan Mobile plans, it will activate instantly. When you're running low on your data or calling minutes, you can easily top it up with an add-on that ranges from $5 to $22.
Types of Kogan NZ Mobile Plans and Deals Online NZ
30-day Plans
If you don't want a mobile plan tying you up, or you're wanting to try out a Kogan mobile plan, the 30-day plan is for you. It offers unlimited standard calls and texts for mobile and landline numbers in New Zealand and Australia. Depending on the amount of data that you need, prices range from $18 to $70.
365-day Plans
Kogan Mobile NZ also offers a prepay mobile plan for those who don't want the hassle of renewing their mobile plans monthly. The 365-day prepay mobile plan that Kogan offers provides year-long cover for calling, texting, and as much as 384GB of data!
You can compare other 12-month contract mobile prepay plans using our comparison services; we'll help you find the best deals in NZ.
90-day Plans
If you want to try Kogan Mobile NZ plans for a longer period, you can try one of the 90-day plans. Prices range from $51 to $189, depending on how much data you need. If you choose this plan, you can save as much as $7 per month! Another added benefit is that your data replenishes monthly, so you don't have to worry about consuming all your data in only a month.