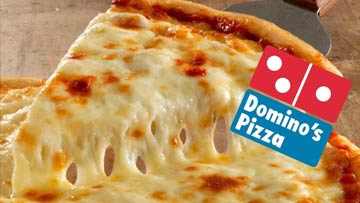 Domino's coupons, vouchers and deals 2019
From tasty deep dish Meat Lovers, to cheesy New York style pizzas, to the classic Mr Wedge, every Kiwi has a favourite Domino's pizza. It's hard to believe that Domino's can get any better... but it can, with these great deals,coupons and vouchers!
We've got the very latest Domino's 2019 coupons for you to enjoy discounts, specials and freebies with your next pizza order. Whether you're ordering a pizza for yourself or feeding an entire party of people, Domino's coupons will ensure there is plenty of food for everyone to eat up!
While they are known mainly for their delicious range of value and gourmet pizzas - including vegetarian and gluten free options - Domino's has expanded their range to include a variety of tender chicken snacks and savoury sides.
Check out these great value coupons and vouchers for you to use during your next visit to Domino's. Order online or in store and get ready for tasty food and pizza from your local Domino's!
Where to get your Domino's coupons
Domino's first store opened in Johnsonville, Wellington over 13 years ago, and has since expanded to open over 100 more stores across New Zealand. With a plan to open another 100 stores in the next 5 years, Domino's can easily be found throughout Wellington, Hamilton, Auckland, Tauranga, Dunedin, Christchurch and surrounding suburbs.
As well as committing to provide better food, better technology and better customer experiences, Domino's regularly offers pizza lovers awesome deals and coupons online. You can find the latest Domino's vouchers right here at Glimp, as well as on their website.
These great value Domino's coupons can be used when ordering online, by phone or in-store - simply mention the offer code when placing your order or show a print out of the coupon. Domino's offer a wide range of great value deals for both their pizzas, drinks, desserts and snacks, so there's something for everyone in the family to enjoy.
Coupons can be used for either pickup or delivery - so if you feel like staying in for the night, you can still have your freshly made gourmet pizza delivered right to your door! As there are dozens of vouchers and coupons available for Domino's, be sure to check the expiry date as the deals won't last forever.
Get more with Glimp
At Glimp, we are passionate about helping Kiwis save money on their everyday expenses. As well as offering great deals and savings on your favourite fast foods, we're here to help you save on your everyday expenses and utilities too!
Using our online price comparison tool, you can compare broadband, electricity, insurance, credit cards and more. Find out whether you're getting the best deals on your utilities, and easily switch and save with another provider.
It only takes a few minutes, and you'd be amazed as to how much you could be saving each year by making the switch. Get started today with us here at Glimp!