WorldNet Broadband Plans
WorldNet have been in the industry for over two decades, so it's no surprise why they're renowned for their polished and excellent broadband offerings.
They keep true to their mission of providing lasting and meaningful experiences through their telecommunications technology, whether it's ADSL, VDSL, fibre, or ultra-fast fibre. With their many years of experience, research and development, they've become experts in delivering some of the best internet services in New Zealand.
WorldNet's broadband plans are some of the most affordable in the country, and you can find them all here using our comparison tool at glimp.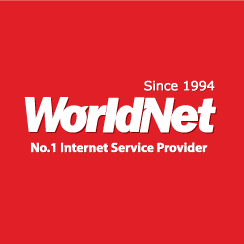 Why sign up with WorldNet?
If you're after a broadband provider that has support lines across all the major towns and cities in New Zealand, then consider getting a plan from WorldNet NZ.
WorldNet have nationwide support lines, accommodating to all types of customers, from up north in Auckland, Hamilton, and Wellington, to down south in Christchurch and Dunedin. If you experience any trouble or have concerns about your internet, you can trust that there's a nearby team to help resolve your concerns quickly.
Before signing up to a WorldNet broadband plan, make sure to compare them against some of the best offerings of NZ's leading providers using our comparison tool at glimp.
Is WorldNet the best provider for you?
Sick and tired of your broadband plan that comes with unnecessary add-ons and fees? Then switch to a WorldNet broadband plan now!
WorldNet NZ only charge you for the data that you use, which means more affordable prices for you! For as low $55 a month, you can get a trusted broadband plan with average speeds of 30Mbps download and 10Mbps upload. This is more than enough to keep you going, whether you use it for working, studying, or even gaming!
WorldNet internet plans are some of the fastest and most reliable broadband plans in NZ, so be sure to check them out using our comparison tool at glimp.
Types of WorldNet Broadband NZ Deals, Plans
WorldNet Fibre Broadband Plans
With their extensive experience in the industry, it's no surprise that WorldNet's fibre broadband plans are some of the most comprehensive plans in the country. You can get a fibre plan that provides speeds from 30Mbps to 1Gbps – all with free installation and a free wireless router rental fee! As the NZ government continuously rolls out fibre throughout the country, getting coverage even in your rural abode is now possible.
WorldNet Naked Broadband Plans
If you don't see a need for a home landline service anymore, then you're better off with one of WorldNet's naked broadband plans. They know that not everyone in the country still uses a telephone – and that's why they offer a plan without all the fancy bells and whistles. As your plan is stripped naked, you can say goodbye to unwanted inclusions and unnecessary charges.
WorldNet Landline Broadband Plans
While the landline may not be overly common in New Zealand anymore, there are still a number of Kiwis who find this useful in their daily life. If you're one of these people, then WorldNet's landline broadband plans are perfect for you! For an additional $5 a month in your basic plan, you can also take advantage of having an alternative number in your Voice over Internet Protocol.
WorldNet Rural Broadband Plans
Even if you live rurally, getting an internet plan with WorldNet NZ isn't a problem. They have wide coverage across the country, with established networks for fibre, ADSL, and VDSL. For as low as $70 a month, you can get a full-speed broadband plan with free standard installation.
WorldNet Unlimited Broadband Plans
WorldNet's internet plans can come unlimited, which means that you can download content, play games, and watch movies to your heart's content! While they're slightly more expensive than capped broadband plans, it's worth it, as you don't have to worry about running out of internet in the middle of the month.
WorldNet No Contract Broadband Plans
If you don't like the idea of signing up to a long term contract, then you're better off without commitment with WorldNet's no contract broadband plans! While you may have to pay for additional installation and rental fees upon purchase, the flexibility in your broadband plan is worth the compromise.
Compare WorldNet broadband plans now.
Find a better broadband plan with World Net.