Ultrafast Fibre Broadband
Ultrafast Fibre has provided Kiwi households and enterprises with ultrafast fibre broadband since 2010. They're a leading fibre network connecting over 209,000 homes in the urban areas of Hamilton, Tauranga, Whanganui, New Plymouth and several more across New Zealand. Ultrafast Fibre is one of the most trusted and competent fibre distributors that NZ has chosen for UFB initiatives, making them the smart choice for your fibre connection.
Get to learn more about Ultrafast Fibre at glimp and check broadband plans you can compare.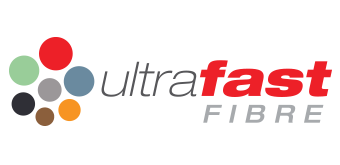 Why sign up with Ultrafast Fibre Broadband?
Ultrafast Fibre aims to give Kiwis reliable and seamless connectivity anywhere in North Island. With their high-speed broadband offers, customers can go through work as well as digital banking with ease. They're also able to multitask online without frequent downtime or outages.
Likewise, you're rest assured of a fast internet connection with high-quality customer service because Ultrafast Fibre cares for their crew and helpdesk as they would for their Kiwi customers. They make it a priority to provide fast internet and to promote the well-being of their stakeholders
What are the benefits of getting fibre
It's well-known in New Zealand that fibre connection is the fastest among types of broadband. You get stable and ultra-fast internet speeds allowing quicker uploads and downloads, high-quality videos and an overall better internet experience. As you're connected using fibre optics, heavy streaming, and long hours of internet won't interrupt your connection whether it rains or shines.
Ultrafast Fibre Broadband NZ Deals, Plans
Fibre for Business
Having a fast and strong internet is crucial in business, especially when you have a large number of employees working all at once. When you connect to fibre, emailing and transferring files online can be done in seconds. You can experience a consistent connection with minimal to zero disruptions which can be caused easily resolved with Ultrafast Fibre's quality customer service.
Fibre for Home
When you switch from copper wires to unlimited fibre broadband, you'll notice seamless connectivity and faster speeds despite multiple connected devices. It's a great investment for families with students and those who work from home.
FAQs about Ultrafast Fibre broadband
You can apply for ultrafast fibre through their regional internet providers accessible in the towns of Waikato, Bay of Plenty, Manawatu Whanganui and Taranaki. They're offered by leading ISPs like Nova energy, Orcon, My Republic, Megatel and many more. See providers at glimp and compare the best fibre broadband plan for you!
It can take several hours to completely install fibre to your property. Normally, a UFB or ISP representative will conduct a Scoping Visit that takes at least an hour. Once they're done checking, you're all set for installation. They'll have an Exterior Visit next where installation commences outside of your property. For the last step, they'll install the internal fibre, which can take 3 to 4 hours.
Ultrafast Fibre doesn't charge a connection fee for residential UFB installation starting from the boundary of the property to ONT attached inside your house. Costs depend on your chosen broadband provider for your UFB installation so might as well check with ISPs in your area. You can also go to glimp and compare fiber broadband plans according to your preference.