Small Business Broadband Plans NZ
Different organisations have different needs – and the same thing goes with business broadband. A business broadband plan with plenty of features may be beneficial for large multi-national companies, but not exactly for small enterprises. The best internet for small business will have different features that helps them operate more cost-effectively.
Similarly, some features which may work for small businesses may not apply to large companies. That's why it's important to get a specialised business broadband plan that matches the needs of your business. If you're looking for the best small business broadband plan in New Zealand, then you've come to the right place here at glimp.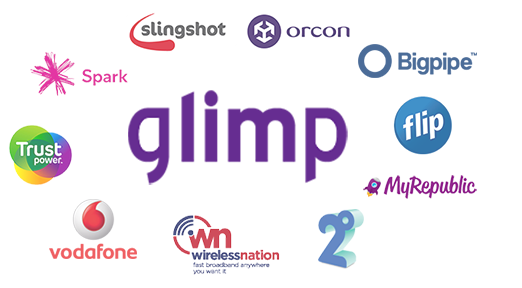 We list only the broadband plans from the leading small business broadband providers in the country to ensure that you're only getting the best internet service. These providers also include special features for small businesses such as EFTPOS, Guest WiFi, VLAN transparency, and more (depending on your broadband deal).
To ensure that you get the small business broadband plan that ticks all the right boxes, compare your options amongst the best small business internet providers using our comparison tool here at glimp.
Why get a small business broadband plan in New Zealand?
Increase productivity in your small businesses
All businesses rely on productivity to generate income – that's why it's important to get a small business broadband plan that's personalised to your needs. As you have a broadband plan that's specially designed for your small business, you can trust to see great results not only in productivity, but also in the numbers involving your business.
Get special services for consistent speeds and reliability
Even a small business can't afford to have downtime or a broadband outage! If your business loses a broadband connection, it's like losing an arm to operate your business. Luckily, small business broadband providers help avoid and minimise downtime by responding to connection issues immediately.
Frequently Asked Questions
What's the ideal broadband speeds for small businesses?
It actually depends on the nature of your business. If your business involves intensive use of the internet such as digital marketing, IT, and business process outsourcing, then a 2Gbps hyper fibre small business broadband plan may be suitable.
However, if the nature of your business only requires you to use the internet once in a while, then a 940Mbps small business fibre broadband plan may be sufficient. Do note that these speeds affects download but upload as well – so you can always get the best speeds no matter what you need to accomplish.
What is a 4G backup?
4G backup works as your back-up connection whenever your broadband lags or goes out of service. This is built directly into your business-grade modem, and will automatically activate when your broadband service drops.
Aside from 4G, it can also detect 3G signals if that's the only connection available in your area. This way, you can trust to get reliable business internet and get the job done whenever, wherever.
What inclusions can I get in my business broadband plan?
Your choices are endless when it comes to the choices that you can add in your small business broadband plan. Anything from static IP addresses, landlines, and Guest WiFi can be added to your plan. It's best to determine what you really need first before purchasing a plan so you can save yourself from unnecessary costs.
If you want to get these inclusions with big discounts, use our broadband comparison tool to compare your best options amongst the leading small business broadband providers in NZ.
How many business landlines can I add?
As businesses may need different lines for different purposes, so most small business broadband providers allow up to two landlines. If you may need more, you may request it ahead of time, but it still depends on the broadband provider if they'll allow more than that.
About glimp
glimp is a comparison website for utilities, such as broadband, power and gas. glimp has helped thousands of New Zealanders find the best broadband deals since January 2016. The glimp.co.nz broadband comparison and switching service is designed to help you save time and money by finding you the best broadband deal from the right provider at the best price.