Countrynet Rural Broadband Plans NZ
Countrynet are a rural broadband provider, mainly offering wireless broadband plans in the Southern Lakes and Central Otago districts in South Island. They specialise in connecting remote locations using a long-range wireless technology which is able to distribute broadband signals even 50kms away from the broadband tower.
Although their main services are in the rural areas of the southern part of South Island, Countrynet NZ are ready to connect you to a fast and reliable broadband network, no matter how remote your community is. As they're locally owned and operated, they understand the struggles of rural internet that's why they're doing their best to provide high-speed internet service throughout the country.
While wireless broadband plans are often unstable the more you're away from the radio sites, the wireless plans of Countrynet are robust and reliable, with speeds up to 50Mbps. This is more than enough for heavy streaming, playing, and downloading. On top of this, their connection is always secure with a firewall and optional content filtering features.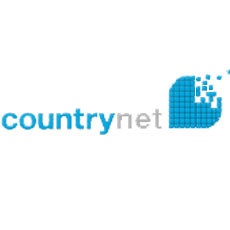 To check if Countrynet NZ offer the best value for money plans in your area, compare them against some of the best rural broadband providers using our comparison tool here at glimp.
Why sign up with Countrynet Rural Broadband?
If you're in a hard to reach area like the Southern Lake District and Queenstown in South Island, then you should get a broadband plan from the experts in rural areas… like Countrynet NZ! Aside from covering fixed locations, they also offer to install a custom link to your location if you request them.
Countrynet also have digital and analogue mobile radiotelephone services, with their Voice over Internet Protocol technology. If you own a business where privacy is vital in your operations, you may also consult them for private network links at your remote location.
Is it easy to contact Countrynet Rural Broadband?
If you want to know more about their broadband plan offerings or have connection issues in your Countrynet internet plan, you can easily contact them at (03) 450 0030. They have three different email addresses – one for sales, support and accounts – so make sure to send your concern to the right address to have it resolved accordingly.
Countrynet NZ are dedicated to improving their coverage – even building a broadband tower in Walter Peak which is 1,800 metres above sea level! Wherever you may be, they'll do their best to connect you to high-speed broadband so don't hesitate to contact them if you're ready to connect one of their plans.
What are the benefits of signing up with Countrynet?
While Countrynet's broadband plans don't come with frills and fancy extras, they ensure to connect you to fast and stable internet. If you're also planning to get a home landline plan from them, they have telephone inclusions in their broadband offerings, costing anywhere from $49 to $199 a month (depending on your data cap).
You don't have to compromise your internet, even if you're far from most major population centres. Countrynet NZ are ready to connect you online without the astronomical costs. If you want to get one of their plans, use our comparison tool at glimp to get exclusive benefits and discounts.
About glimp
glimp is a comparison website for utilities, such as broadband, power and gas. glimp has helped thousands of New Zealanders find the best broadband deals since January 2016. The glimp.co.nz broadband comparison and switching service is designed to help you save time and money by finding you the best broadband deal from the right provider at the best price.