Connecta Rural Broadband Plans NZ
Connecta aim to offer specialised broadband plans throughout rural New Zealand. Whether you need broadband for your residential home, business establishment, or campervan, you can connect to their reliable and consistent wireless rural internet that's specified for your needs.
Connecta NZ have been a trusted rural broadband provider for over 15 years – starting under the brands of Wired Country and Radionet. Today, they're officially the wireless internet division of Compass Communications – one of the largest telecommunications companies in the country. As a part of Compass, they have access to a nationwide network with a range of telecommunication gears that allow for flexible and responsive internet services.
They're an innovative broadband provider as they always look for ways to decrease the costs of rural broadband plans. Due to the limited fixed broadband lines in remote communities of the country, rural broadband may be more expensive – but the great news is that Connecta deliver high-quality broadband with lower costs by utilising licenced frequencies.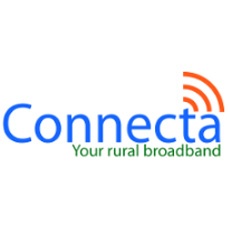 Connecta NZ should be one of your top choices when it comes to rural broadband. If you want to know if they provide the best services in your location, get a comprehensive comparison against their competitors using our broadband comparison tool at glimp.
Why sign up with Connecta Rural Broadband?
If you want to get a broadband plan from a trusted company, then you should consider signing up with Connecta NZ. As they're a part of a bigger company, they have reliable networks so getting a stable and uninterrupted coverage shouldn't be much of a worry – even if you plan to travel constantly!
What you see in their broadband plans are exactly what you get – meaning that they don't have hidden charges. They also know that different locations across NZ may have different needs, so they've diversified their offerings as well as their customer service to provide a personalised experience.
Is it easy to contact Connecta Rural Broadband?
Getting in touch with Connecta NZ is extremely easy. Simply contact them at 0800 969 869 from Monday to Friday, 8:30 am to 5:00 pm, and get your concern resolved by a wireless broadband specialist. If you happen to have concerns outside their office hours, you can always connect to them through their contact page and expect a response in the next working day.
They pride themselves with a personalised customer service team, consisting of responsive and helpful agents. To know how their customer service fare amongst the leading rural broadband providers in the country, try using our broadband comparison tool.
What are the benefits of signing up to Connecta?
If you're after a broadband provider that also provides specialised Voice over Internet Protocol as well as voice and data services, then you should check out Connecta broadband plans. You can benefit from their modern phone lines for only an additional $10 per month on your broadband plan!
They also have plenty of internet connectivity solutions using a range of different technologies such as 4G LTE, WiMAX, and WiFi – making their broadband plans reliable, consistent, and cost-effective. Connecta NZ are at the forefront of rural internet, so make sure to sign up today with glimp.
About glimp
glimp is a comparison website for utilities, such as broadband, power and gas. glimp has helped thousands of New Zealanders find the best broadband deals since January 2016. The glimp.co.nz broadband comparison and switching service is designed to help you save time and money by finding you the best broadband deal from the right provider at the best price.