List of Internet Providers NZ
Looking for the best internet providers in NZ? You've come to the right place here at glimp! We list the most trusted internet service providers in the country, including all the leading companies that offer fibre, ADSL, VDSL, satellite, and rural broadband plans.
Check out this list of NZ's leading internet providers that you can compare here at glimp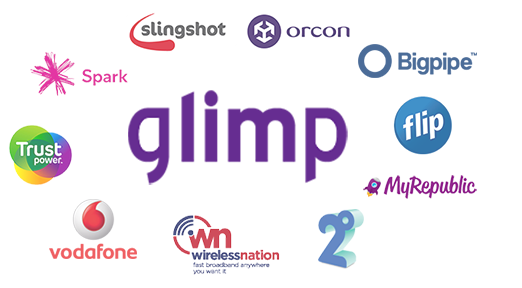 Compare and find the best broadband providers in NZ:
2degrees
2degrees are one of the biggest telecommunications companies in New Zealand. They offer a wide variety of internet services that range from ADSL to fibre broadband, and in both urban and rural areas. Today, they have over 1.4 million active home users and 76,000 business users.
Bigpipe
Bigpipe pride themselves on offering some of the cheapest broadband plans in New Zealand. All their broadband offerings come unlimited, naked, with no contract, and packed with plenty of extras – stripping you of any unnecessary charges.
Contact Energy
Contact Energy are a popular power provider, but they also have some of the most comprehensive broadband plans around. They were named as 'The Most Diverse Company in NZ' with their bundle offerings of power, broadband, and other utilities.
Compass
Compass are 100% locally owned and operated – meaning that their broadband plans are designed by Kiwis, for Kiwis. They're a customer-driven provider, so all your feedback and comments are vital in further improving their services.
Farmside
Farmside are a completely rural broadband provider based in Timaru. They offer a range of solutions, from fibre to copper broadband plans, to ensure that your rural abode is connected to the best broadband connections in New Zealand.
Flip
Flip are an unique broadband provider, as their primary focus is on improving their copper broadband connections. They've built hundreds of copper infrastructures across New Zealand, so you can trust that their broadband plans are reliable and steady.
Freedom Internet
Freedom Internet specialise in pre-installing broadband connectivity in flats and buildings in major cities and towns throughout New Zealand. So when you move into your new home, you can instantly connect to the best broadband type available in your address.
Gravity
Gravity focus solely on providing satellite broadband plans, because they know that not all Kiwis are serviceable through wired infrastructures. While they're not the fastest plans in New Zealand, they're still more than enough for basic online tasks such as browsing social media, banking and sending emails.
Inspire Net
Inspire Net have been the most trusted local broadband provider in Manawatu and its neighbouring districts for a number of years. They pair their broadband plans with excellent customer service, so Kiwis can always rely on them if they want to purchase a plan or upgrade their broadband.
Megatel
Megatel have been a pioneer in providing telco and power bundle plans since 2011. They give Kiwis the opportunity to save on their broadband through bundle options at affordable prices. With this great option, they have gained over 10,000 loyal customers throughout the country.
MyRepublic
MyRepublic are a broadband provider with a strong focus on delivering the best fibre broadband speeds in New Zealand. They pioneered the offering of gigabit per second (GBps) broadband plans – changing the way Kiwis connect to broadband.
Nova Energy
Nova Energy are best known as a power and natural gas retailer, but they also offer a wide range of broadband plans too. From ADSL and VDSL to fibre and ultra-fast fibre, you can easily sign up to a plan that best suits your household internet needs.
NOW
NOW only started back in 2011, but they've quickly become a favourite provider for many Kiwis, as a result of their great value plans and excellent customer service. They provide in-home tech visits and other customer engagements to ensure that you're maximising your broadband plan.
Orcon
Orcon are one of the largest broadband companies, and the pioneer of ultra-fast fibre broadband in New Zealand. They're an innovative provider, continuously pushing the limits of the internet to deliver the best broadband experience to Kiwis.
Slingshot
Slingshot have been in the telecommunications industry for more than two decades – so it's no wonder that they have a variety of great broadband plans. They're an all-around provider with plenty of options for broadband, power, and mobile bundles.
Spark
Spark have been providing New Zealand with internet services for over 30 years. With their trusted experience, they've been the go-to for Kiwis who want to get the most out of their online experience – whether through fibre, VDSL, ADSL, rural, or mobile broadband.
Stuff Fibre
Stuff Fibre believe that Kiwis should have an easy and convenient online life – that's why they only offer broadband plans with minimum speeds of 100Mbps. They pair high-quality broadband with a world-class router to ensure great internet connectivity.
Trustpower
Trustpower have expanded their offerings to now include telecommunications and gas in their catalogue of services. As they're both a power and broadband provider, they offer great value bundle plans at affordable prices.
Unifone
Unifone offer personalised broadband services with a wide variety of options to fit every type of Kiwi user. They're dedicated to expanding their coverage not only in urban areas, but also in the most rural areas of Otago and Southland.
Vodafone
Vodafone are one of the biggest telecommunications companies in New Zealand. Their broadband plans are backed by their infrastructure, so top speeds and reliability is always guaranteed. Whether you're looking for urban or rural broadband, they have something to offer you.
Voyager
Voyager offer simple broadband, so expect no-frills and no fancy extras in your plan. However, simple doesn't mean uncompetitive, as they provide supersonic speeds whether you've signed up to their fibre or VDSL broadband plan.
Wireless Nation
Wireless Nation started when they realised no broadband provider offered the internet that they wanted. In 2005, they finally decided to extend their offerings in rural areas by utilising the well-established wireless networks throughout New Zealand.
WorldNet
WorldNet have been servicing Kiwis for almost two decades, keeping true to their mission of providing lasting telecommunications solutions. Through their trusted experience, they were able to expand their offerings, including ultra-fast fibre and copper broadband.
What types of broadband plans are available in New Zealand?
Fibre broadband
Fibre broadband is currently the fastest broadband connection available in New Zealand. This broadband type uses the more modern fibre optic cables to deliver a better and more consistent broadband performance. Fibre is also less affected by natural disasters like earthquakes, and other environmental factors such as corrosion.
Depending on your broadband plan, you can get speeds anywhere between 100Mbps to 1Gbps. These speeds are more than enough for online activities such as downloading large files, streaming in HD, video conferencing, and more. You'll never have to feel limited and experience lag again with fibre broadband!
Copper broadband
Copper broadband is delivered using copper cables, which are traditionally used to deliver telephone services to Kiwis. This works as the provider distributes broadband through a roadside cabinet, which then delivers broadband to households and businesses. Due to this process, homes that are located far away from the cabinet may suffer from slower and more unstable broadband.
There are two types of copper broadband connections in New Zealand – ADSL and VDSL. ADSL uses older broadband copper cables to deliver speeds as fast as 10Mbps download and 1Mbps upload; while VDSL uses more modern copper cables to deliver speeds of 70Mbps download and 20Mbps upload. While they're not as fast as fibre broadband, they're still fast enough even for heavy online tasks.
Wireless broadband
Wireless broadband allows Kiwis to connect to the internet without needing to connect to wired services. This is possible because of the well-developed 3G, 4G, and even 5G networks throughout New Zealand. Wireless broadband plans are an excellent solution to connect Kiwis who live in remote areas where no cables have been rolled out yet.
As this broadband type only relies on radio signals, its speeds dependheavily on how far you are from the cell tower, how congested the network is, how capable your device is, and how often it is subject to environmental factors (such as strong winds and heavy rains). Some of the best internet providers in NZ are starting to offer this, so that more Kiwis can connect to high-quality internet.
Satellite broadband
If fibre, copper, and wireless broadband aren't available in your area, then you may find luck with satellite broadband. This relies on a satellite tower to deliver speeds within a 20-50km radius (depending on the provider). A satellite dish will be installed on your roof to receive these signals – so no matter where you are in NZ, you can get satellite broadband signals.
While it's still more expensive than other broadband types – considering the installation of the satellite and the lack of alternatives – this is the best that you can currently take advantage of if you're located remotely. It's also important to note that the only few internet providers in NZ offer this broadband type so better check the availability ahead.
Frequently Asked Questions
How can I compare broadband deals in New Zealand?
There are several factors that you need to compare before you can score the best broadband deal in New Zealand. You'll need to take into account the speed and connection type, data cap, contract details, prices, and signup bonuses from all of the best internet providers in NZ.
Getting every detail in your plan can be a time-consuming process; but luckily, you can avoid this by using our broadband comparison tool at glimp. We simply need some basic information to get started, and then we'll show you tailored results in just a few minutes.
Are broadband plans in New Zealand expensive?
The great news is that broadband plans in New Zealand are more affordable compared to the global average. Depending on your plan, it can cost anywhere from $60 to $250 per month. Of course, the faster your broadband plan is, the more expensive your broadband becomes.
To find the cheapest broadband providers in NZ, make sure to get a comprehensive comparison here at glimp. From fibre to satellite broadband, we help you save time, effort, and money through our broadband comparison tool.
Who are the best internet providers in New Zealand?
Ultimately, there isn't one best internet provider in New Zealand; it depends on several factors that contribute to the speed and performance of your internet. To get the best internet provider that matches your needs, get tailored results using our broadband comparison tool.
About glimp
glimp is a comparison website for utilities, such as broadband, power and gas. glimp has helped thousands of New Zealanders find the best broadband deals since January 2016. The glimp.co.nz broadband comparison and switching service is designed to help you save time and money by finding you the best broadband deal from the right provider at the best price.