MyRepublic Fibre
MyRepublic is credited as the first gigabit per second plan in Singapore. They've extended their knowledge in high-speed, high-performance broadband to the New Zealand market.

They're frequently regarded as the most affordable for performance. MyRepublic is still a new provider, and they prefer to take advantage of that. They're committed to keeping their operations simple and adaptable to keep their prices low and stay current with technology.

With glimp, you can compare the quickest and cheapest broadband deals of MyRepublic NZ against their competitors.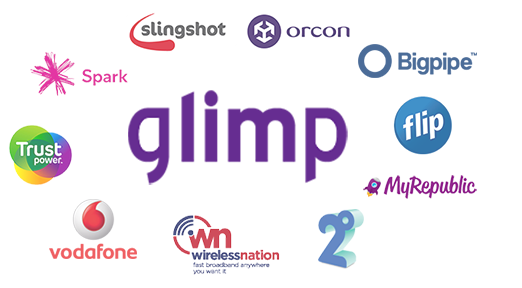 Why sign up with MyRepublic fibre plans?
If you're a hardcore gamer, MyRepublic NZ's fibre plans are your best bet.

They provide incredible speeds of up to 950Mbps download and 500Mbps upload, ensuring that you never experience lag again. Additionally, MyRepublic internet gives you excellent modem choices to handle extreme usage.

Although their plans focus on gaming, you don't have to be a gamer to take advantage of MyRepublic's features. If you have a large household or rely on a reliable internet connection for your remote work setup, MyRepublic NZ got you covered.
Types of MyRepublic Fibre Plans
Fibre 100
Those interested in switching to fibre can begin with their regular fibre plan. It has 100Mbps download/200Mbps upload speeds for only $79 per month on a 12-month contract.
Fibre Pro
Fibre Pro provides up to 9x faster fibre connections with 950Mbps download/500Mbps upload speeds. Get this for only $80 per month on a one-year commitment.
Fibre 2000
Increase your fibre speeds by upgrading to one of their hyperfibre plans. This provides up to 20x faster connections with speeds of up to 2000Mbps for $159 per month.
Fibre 4000
Experience incredible speeds with their fastest fibre yet that delivers speeds of up to 4000Mbps, which is 40x faster than any other fibre broadband! Get this for only $189 per month.
Frequently Asked Questions
Can I use my old wifi router with MyRepublic fibre?
You can. However, you may not get the optimal performance after switching to a MyRepublic Fibre plan. If you want to get a replacement, you can contact them to help you find one. When you sign up for their basic fibre plan, you just have to add $20 to your monthly bill.
How much does it cost to install MyRepublic fibre?
There are no connection costs on MyRepublic's standard contract or monthly rates.
What are the different router units supplied by MyRepublic?
To get the most out of your MyRepublic fibre plan, you need to upgrade to one of their wifi routers, which are available upon sign up. Here are a few of the units they have:
MyRepublic WiFi Hub+
ASUS RT-AX3000 (available for $20 and $15 monthly for Fibre 100 and Fibre Pro, respectively)
TP-Link Archer VR1600v
D-Link EXO 882
D-Link COBRA