Compass Fibre Plans
Compass' mission is to bring the internet's potential to life by providing dependable services. They cater to both casual and heavy internet users. They're a well-known New Zealand's cheapest internet provider, which is something that many service providers strive for.

Compass provides a variety of internet plans, including ultra-fast fibre broadband. It's the current global standard for internet users. As the government continues to develop infrastructure, a growing number of properties are becoming fibre-ready.

Compare all Compass fibre plans available in Auckland and many parts of NZ here at glimp!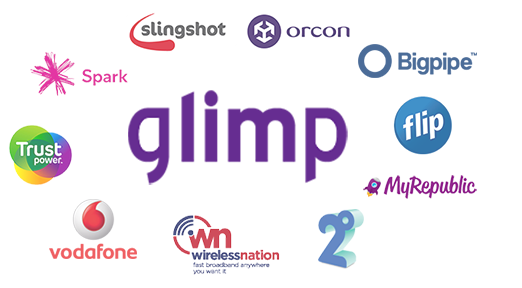 Why sign up with Compass Fibre?
Compass is among the country's smallest internet service providers, yet they provide a wide variety of affordable internet services.

They have a customer-centric service, and they're keen on demonstrating their value to new and existing consumers. Compass may lack some of the attractive features offered by larger firms, but they offer a more individualised experience than other of the country's telecoms giants.
Flexible payments
Compass NZ is best suited to customers who are on a tight budget and want to pay less on their internet connection. You can pay your Compass fibre plan on a monthly, weekly, or prepaid basis, starting at $3 per day.
Types of Compass Fibre Plans
Monthly
Compass offers three types of fibre plans that you can pay on a monthly basis.
Fibre 30
This connection costs $74.95 per month, perfect for lower bandwidth users. It includes unlimited data, a free gigabit wifi router, free installation and up to 30Mbps download/10 Mbps upload speeds
Fibre 100
If you're frequently on Netflix and Youtube, this plan is suitable for you. For only $79.95 per month, you can enjoy unlimited data, a free gigabit wifi router, free installation and up to 100Mbps download/20Mbps upload speeds. This is ideal for busy households with more than 5 occupants.
Fibre Max
For those looking for a faster connection in their area, this plan suits you best. Compass offers the fastest home internet in New Zealand, with unlimited data, a free gigabit wifi router, free installation, and download/upload speeds of up to 900Mbps/450Mbps. You can view your favourite TV and movies in 4K resolution at this pace!
Weekly
Make payments according to your earning cycle with Compass fibre weekly plans.
Fibre 100
For $19.95 per week, you can enjoy unlimited data and a free gigabit wifi router and installation.
Fibre MAX
You can have faster residential internet speeds with unlimited fibre and a free gigabit wifi router inclusive of installation, for $24.95 weekly.
Prepaid
For a more affordable connection, you can choose Compass prepaid fibre with no fixed terms, credit checks and zero penalties or late fees. You can also add a landline for $1 per day.
Prepaid Fibre 100
This plan starts at $3 daily that includes unlimited data and free fibre installation.
Prepaid Fibre MAX
For $3.75 daily, you can enjoy unlimited data and free installation.
Frequently Asked Questions
Do I need to sign up for My Compass?
If you have a Compass number, you can sign up through its customer portal. Once you're registered, you can monitor and check your invoices for any subscription.
Can I pay weekly if I'm not on a monthly plan?
If you're already on a monthly plan, you can't pay weekly. You should cancel your current contract with Compass and sign up with a new weekly payment plan. Contact their support team if you want to switch to a weekly payment plan. You'll need to sign a new agreement with a new term of 24 months.
Do I need a new modem for Compass fibre?
In most circumstances, you need to purchase a new modem for your Compass fibre connection. When you connect, you can choose between two modems: the EA1200 wireless modem for $99 or the TP-link NF4V wireless modem for $199.

The EA1200 is ideal for accessing the web, emailing and printing wirelessly, and connecting several devices in standard-sized homes and flats. The TP-Link wireless router provides enough capacity for bandwidth-intensive apps.