Bigpipe Fibre
Bigpipe NZ is created with quick and easy broadband plan selections. All internet plans are limitless, naked, and filled with add-ons (including a free router if you commit to a 12-month contract).

Its naked UFB plans are among the fastest on the market, making them ideal for individuals who require a lightning-fast connection. Bigpipe fibre is only available to properties that already have access to fibre infrastructure. As the government expands this to more properties, getting connected will become much easier.

Compare New Zealand's leading broadband providers with glimp to see if Bigpipe internet is right for you.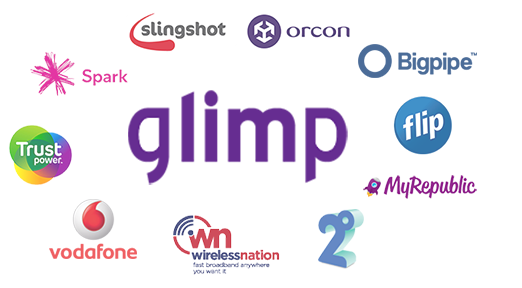 Why sign up with Bigpipe Fibre?
Bigpipe fibre plans are basic and straightforward, so you won't have to ponder which option is perfect for you.

What's not to love about getting your first three months of your broadband plan free of charge when you sign up for any year-long contract with Bigpipe NZ? These simple solutions are appealing, especially if you've recently relocated.
Types of Bigpipe Fibre plans
Starter
This is Bigpipe's basic UFB. Get fibre with no data caps, simple sign-up, and excellent online assistance. You can get a free modem and connection fee on a 12-month contract.
$79 per month
100Mbps download speed
20Mbps upload speed
Expert
With faster uploads, you can share, stream, and play games with no data limits.
$89 per month
100Mbps download speed
100Mbps upload speed
Pro
High download speed. Quick upload speeds with no data limits.
$99 per month
200Mbps download speed
20Mbps upload speed
Elite
Bigpipe's fastest fibre plan isperfect for big households and videoconferencing.
$109 per month
700 to 900Mbps download speed
400 to 500Mbps upload speed
Frequently Asked Questions
Can I keep using my old modem?
If you choose the 12-month contract option, you receive a complimentary Bigpipe Smart Modem. Additionally, you get a $99 Bigpipe Smart Modem when you sign up for one of their no-contract plans.
What are the best modem settings for Bigpipe Fibre?
Bigpipe modems are preconfigured to work with any of their plan— simply plug them in and go!

Here are the Bigpipe fibre settings for Starter, Expert, Pro, and Elite plans for manual configuration:
PPP Protocol: PPPoE
VLAN tagging: Disabled
PPP Username / password: anything, just not blank
Service name: [leave blank]
DNS servers: Obtain automatically
If you are switching from another UFB provider make sure that VLAN tagging is turned off (VLAN off, 0, -1) in your modem/router settings.
Can I switch from my DSL plan to Bigpipe Fibre?
If you're located in a UFB-ready area, you're eligible to upgrade to Bigpipe Fibre. You can also check fibre availability here at glimp.