Cheap WiFi Deals NZ
Connecting wirelessly is one of the most common ways that Kiwis connect to the internet, and it's no surprise why – it's simple, easy, and convenient! If you prefer connecting via wifi, you may want to get a better wifi deal to boost your connection.
Unlike a wired connection where the internet is transmitted through cables, a wifi connection only relies on signals to deliver broadband. Sometimes, these signals can be interrupted by several factors, including how far you are from the router and the location of your modem. This is why it's important to get a wifi deal, to ensure you're getting the best connection, even if it's wireless.
Luckily, wifi deals from NZ's leading broadband providers isn't expensive! Some wifi deals even include freebies and extras along with broadband plan. If you want a deal inclusive of modern routers and premium wifi mesh extenders, then you may want to look out for a cheap wifi deal using our comparison tool.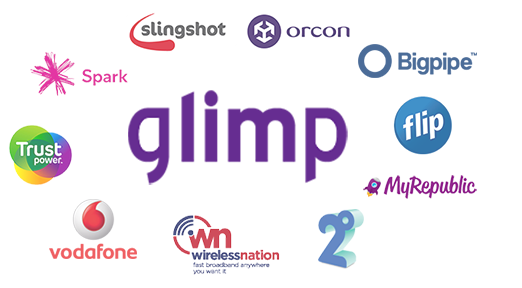 Upgrading to a comprehensive wifi deal allows you to get speeds almost as fast as your wired connection. This is perfect if you're often gaming, streaming, browsing social media, watching, and downloading on your mobile device.
If you want to amp up your wireless connection, purchase a cheap home wifi plan in New Zealand using our comparison tool at glimp. We can help you narrow down your search, so you can find the perfect deal for your needs.
Improve speed and coverage in your wireless connectivity
The best thing about getting a wifi deal isn't only about getting better speeds, it's also about getting better coverage throughout your home! You can say bye to dead zones, and expect nothing but excellent internet speeds throughout your home. If you're looking for a cheap wifi deal to improve connectivity in your home, compare your best options using our broadband comparison tool.
Save with broadband and wifi bundles
There are plenty of broadband and wifi bundles that NZ's leading broadband providers are now offering. These providers are offering them hand-in-hand to ensure that you can always get the best internet speeds – whether it's through an ethernet cable or wifi. If you're looking for great value bundles, you can find them using our broadband comparison tool.
Frequently Asked Questions
How does wifi work?
Wifi – which stands for Wireless Fidelity – works as the modem distributes signals. It uses 2.4Ghz or 5Ghz radio frequencies to send signals between devices, including mobile phones, laptops, desktops, tablets, and more. You may also know it from the term Wireless Local Area Network or WLAN.
As these are only communicated through signals, it can easily be a subject of interferences, such as being near power lines or other wireless devices like speakers and monitors. To avoid this, it's best to place your router in your line of sight, so it can distribute signals better.
How is wifi affected by routers?
As wifi is heavily dependent on the routers, it's no wonder that they're the primary factor to determine your broadband speeds. If you're experiencing lag with your wireless connection, it may be because of the age of your router.
It's important to replace your modem regularly… after all, it's still an electronic device just like your mobile and laptops. There isn't a fixed timeline of switching, but it's advisable to change routers every two years.
What are the average wifi speeds in New Zealand?
It actually depends on how fast your broadband speeds are. Of course, if it's maximum speeds only reach up to 10Mbps, expect to get only around 6-9Mbps with wifi. The more modern your router is, the better it can distribute signals – that's why getting an excellent wifi deal is important.
To get a cheap wifi deal that's tailored to your needs, compare your best choices using our broadband comparison tool at glimp.
Is my router wifi-ready?
Traditionally, a wifi feature isn't included in routers – you have to get it separately if you want to connect wirelessly. To improve broadband in New Zealand, broadband plans now come with a wifi connectivity.
If you want to extend the reach that these routers can distribute wifi, you can look into getting a wifi mesh or a wifi repeater for better coverage.
About glimp
glimp is a comparison website for utilities, such as broadband, power and gas. glimp has helped thousands of New Zealanders find the best broadband deals since January 2016. The glimp.co.nz broadband comparison and switching service is designed to help you save time and money by finding you the best broadband deal from the right provider at the best price.