Despite the amazing sights and sounds around New Zealand, there are certain areas and roads that still require a bit more work. According to AA Motoring Affairs General Manager Mike Noon, NZ drivers are currently being badly let down by the dismal state of some roads and highways around the country. From narrow roads, outdated designs, and bad surfaces, these roads tend to rank high collective and personal risk levels across the country.

Here you'll find the most dangerous highways in New Zealand, so you know what to expect the next time you have to pass them.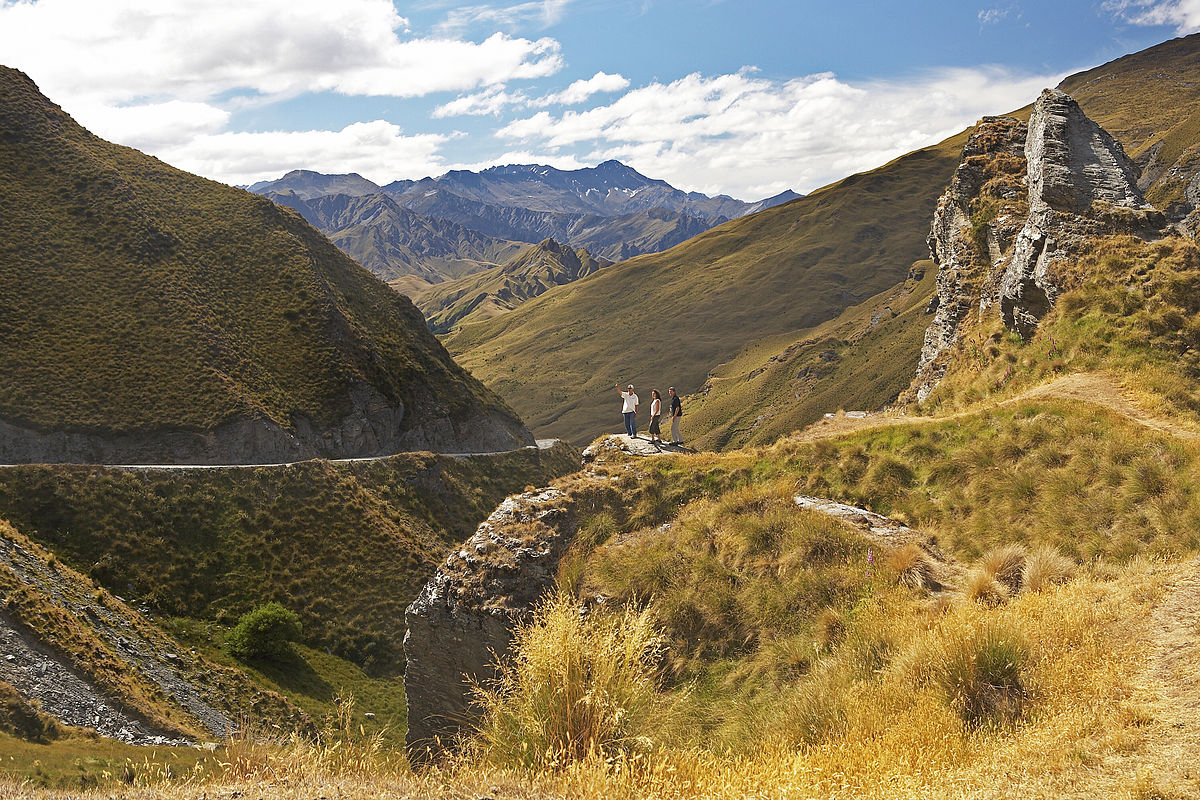 Skippers Canyon | Source: Wikimedia Commons
Skippers Canyon
Among the country's most dangerous roads is the 13.5 mile, one-lane Skippers Canyon road near Queenstown, eventually splitting off from Coronet Peak Ski Field road. In addition to its lack of guard rails and winding paths, the road is supposedly unstable and prone to falling rocks. It's extremely narrow and is right by a sheer cliff face. Inexperienced drivers will have a hard time navigating this terrain.

Source: Wikimedia Commons
Milford Road
Also known as State Highway 94, Milford Road takes you straight into the heart of Fiordland National Park while treating your eyes to stunning mountain ranges, colossal glacier-carved valleys, beautiful blue lakes and rainforest. Fantasy film buffs may also recognize that many shots for Lord of The Rings were done in this area. That said, riders need to be careful around these parts especially during winter where the road gets slippery from ice and snow. It has a record of 65% higher injury crash rates, and twice the number of fatality crash rates.

Crown Range Road, Wikimedia Commons
Crown Range Road
Located in the South Island, the Crown Range Road is 68 km long with actual hairpin bends that makes travelling here a challenge. Its descent drops to an almost bottomless gorge, making it unsuitable for towing vehicles or other large transportation. During winter, the roads can be particularly slippery and windy, requiring drivers to use snow chains to get through. Chain fitting bays have been established on either side of the pass for road safety.
Forgotten World Highway, NZGeo.com
Forgotten World Highway
The Forgotten World Highway is considered one of NZ's most secluded roads, linking Stratford in Taranaki and Taumarunui in the King Country. Also known as State Highway 43, the Forgotten World Highway has been ranked as one of the 10 worst roads in NZ to date by the policy. It has a slippery gravel surface that makes it very difficult especially when it's raining or snowing. Nonetheless, it does offer its own promising sights and scenery. For the less experienced drivers, it's probably not advisable to take on this road unprepared.

Ohakune Mountain Road, DangerousRoads.org
Ohakune Mountain Road
The Ohakuna Mountain Road, located at the southern end of the Taupo Volcanic Zone, is considered one of the highest roads in the country. The area has an alpine environment, leading to drastic changes in weather. It is often closed, especially when it starts snowing as the area has already claimed many lives over the years.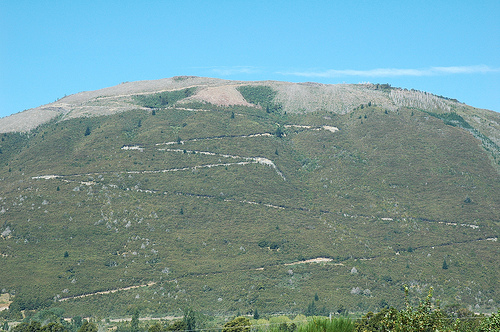 Takaka Hill Road, TheProw.org.nz
Takaka Hill
Takaka Hill divides the Nelson and Golden Bay areas. It features a zig-zagging highway with steep and winding roads and 320 degree hairpins. Fortunately, many developments such as the addition of more traffic lights and electronic signs have improved the driving experience for new riders. Of course, it still pays to be careful, especially during tough weather conditions.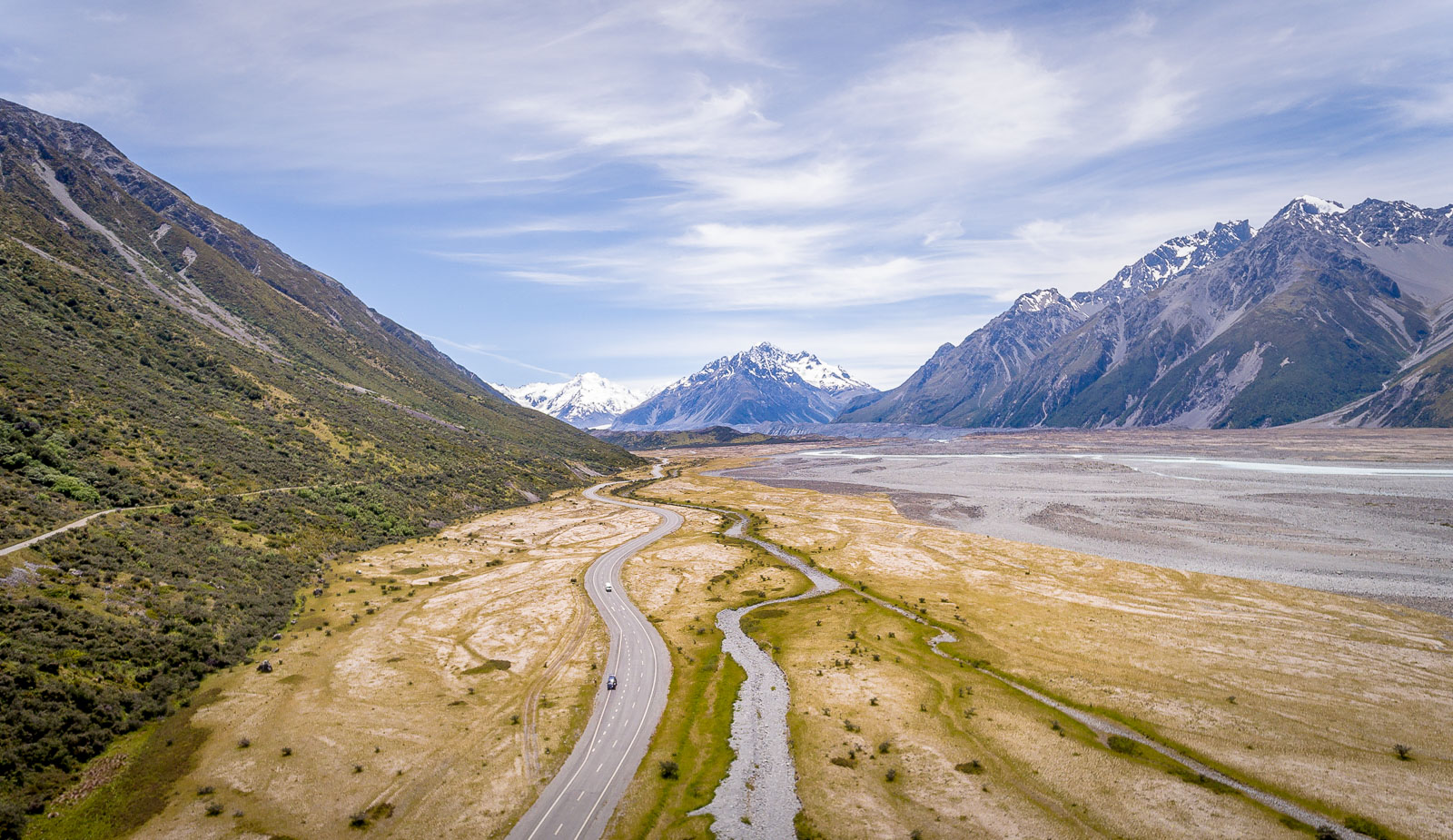 Tasman Valley Road, findawayphotography.com
Tasman Valley Road
Combine unpredictable weather with really strong winds and you get the Tasman Valley Road. Located near Mt. Cook National Park, this is a 7.2 km long road leading into Wakefield Falls, one of the tallest and most attractive waterfalls in the area. However, be careful when driving as the weather can easily change in this area, both during the daytime and at night. Snow is fairly common during cold weather so make sure to bring good tires.
State Highway 37
State Highway 37 is a small spurt of road that leads to the Waitomo Caves, a well-known tourist attraction in NZ. Despite being only 7.3 km long, it is designated as a high-crash and high-risk area, with many fatalities occurring over the years.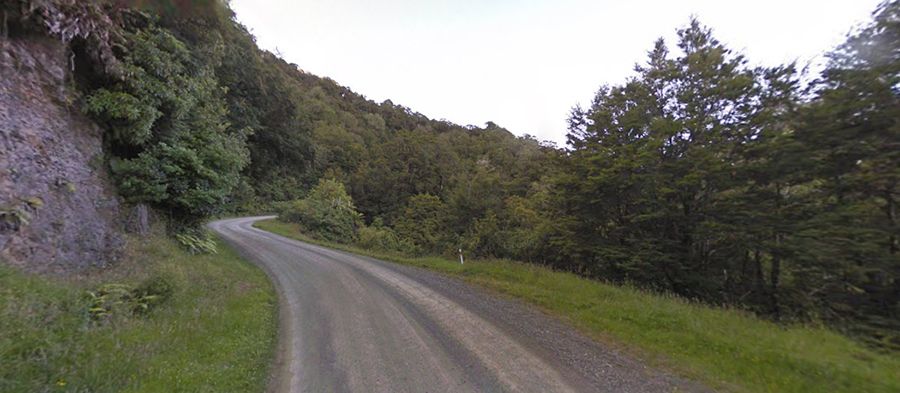 Waikaremoana Road, DangerousRoads.org
Waikaremoana Road
Also known as State Highway 38, this stretch of road treats drivers to a scenic tour of one of NZ's most remote places. Its surroundings are particularly beautiful though one still needs to be careful around this 38.9 km road. There's not a lot of road traffic running through here but you still need to take extra caution. The long road is particularly twisty, snaking past Lake Waikaremoana and the surface filled with gravel. It is also very windy so be cautious and take your time when navigating this particular highway.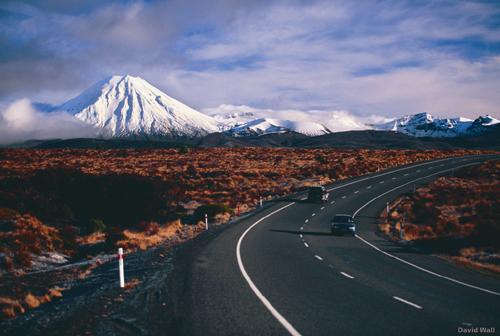 Desert Road, AllCountries.org
Desert Road
Smack dab in the center of New Zealand's North Island, the Desert Road may offer one of the most scenic drives in NZ but it can also be one of the most difficult. For starters, it is completely remote and set in a barren, desert environment with inhospitable weather. It's also lashed by wind on a regular basis. During winter time, the road is also closed in by snow so always be careful when travelling down this area.
Be Careful when Driving Anywhere
Whether you're only going for a scenic trip across NZ or you actually need to get to an urgent destination, always take care when you're out on the road. Keep in mind very important tips such as watching out for any wild animals or checking out weather updates prior to your drive. Lastly, it's important to have car insurance in place to help you out should you encounter any untoward incident. Take care to get a great insurance policy on a budget and practice good, mindful driving to enjoy your next trip on the road!