Contents:
To rent or to buy? That is the question.
New Zealand is reported to be among the countries with the most expensive and "unaffordable" housing in the world. That means — regardless of whether you're a citizen, permanent resident, or a migrant, it will be harder to acquire ownership of any property in the country.
Buying a house in NZ is extremely expensive, especially in major cities like Auckland and Wellington. The same goes for when you lease a property for business.
Lease vs. Rent (definition)
Leasing and renting differ based on the agreed duration of the tenancy. Normally, leasing is valid for a longer period as stated in the agreement, while renting a property entails a shorter period of tenancy.
Both terms refer to an agreement between the landlord and the tenant.
Leasing is commonly used for commercial purposes. Both parties enter into a contract that covers warranties and other obligations that a landlord and tenant should strictly comply with.
Renting, on the other hand, is typically used for residential tenancy. They can have a written agreement indicating rules and regulations set by the landlord. But with or without this formal agreement, both are still subject to the Residential Tenancies Act.
Before signing a tenancy agreement, you, as tenant (or landlord), should take note of the following: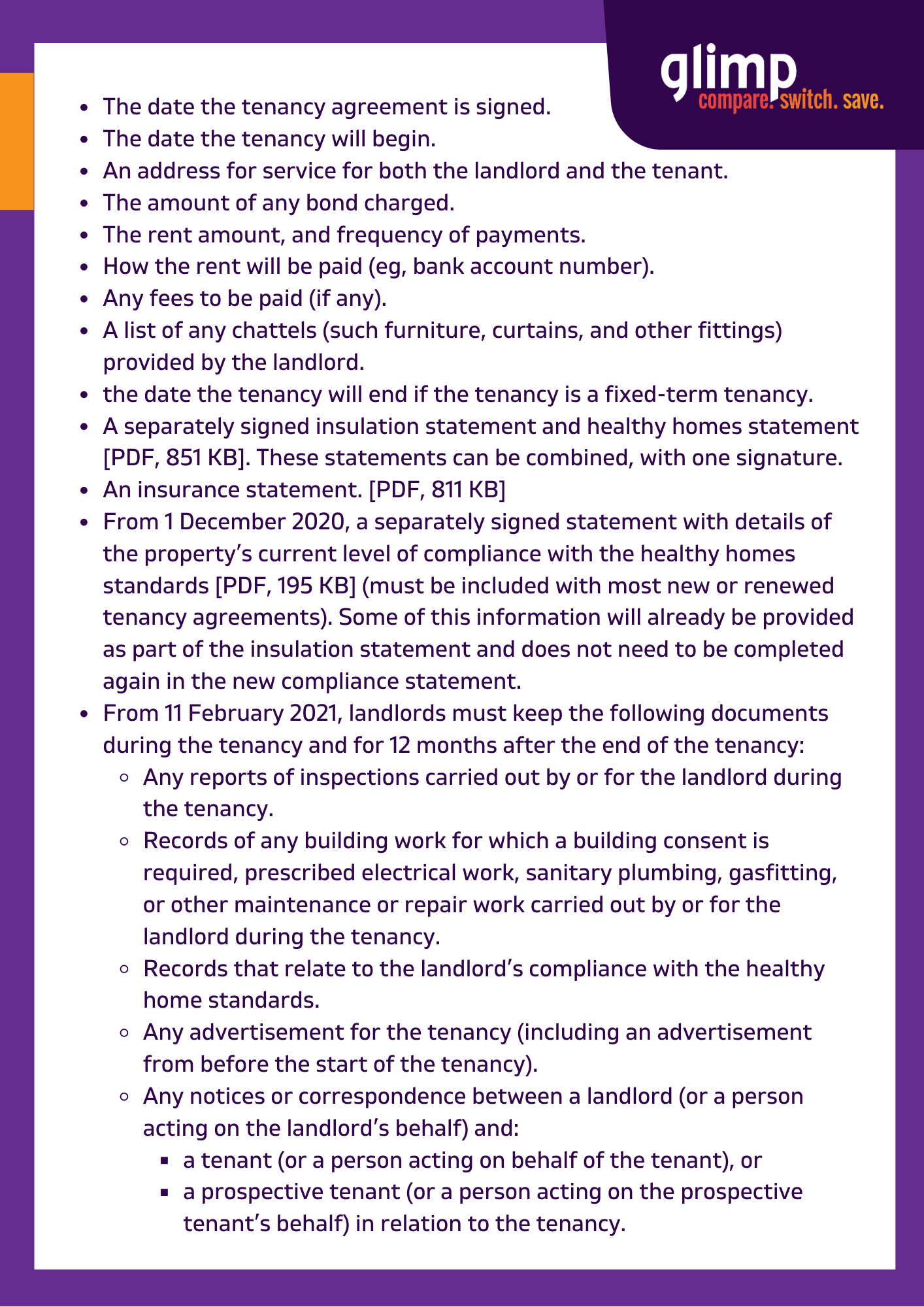 You can download the required forms here:
What is the average tenancy length in NZ?
In the newest amendment of the Residential Tenancies Act, a fixed-term agreement means landlords can't terminate tenancy except for a justifiable reason. If any (such as the property being occupied by a family member, to be sold, or demolished), there should be a 90-day's notice given to the tenant.
All agreements set before February 11, 2021, having a fixed term longer than 90 days (usually 3 months) will automatically become a periodic tenancy upon expiry. This means that there won't be an end date in the tenancy until the landlord or tenant sends a notice to terminate it.
The tenant can also agree on a short-term tenancy provided that there's a signed agreement with the landlord.
Can tenants make changes to the rented property?
One of the significant changes in the Tenancy Law is giving tenants the freedom to make minor changes in the rental property. These changes include making interior alterations (e.g. painting the walls, adding small fixtures, lightings etc.) provided that it won't leave permanent changes to the property.
How much does it cost to rent in NZ?
Your rent will always depend on the location and size of the property you're renting. It can also vary based on the agreement with your landlord. Renting in the city proper may be less expensive than outside of the city, not to mention other expenses that come with your rent. So it's best to do your research on fees like paying a bond in case of damage or unpaid rent, if applicable.
In Auckland for instance, the median rent per week would cost $550. This can change in the coming months considering the frequent market changes in NZ.
Renting a property is ideal for students, travelers, and those on a budget. It's also a practical way for families who are saving up for a house.
If you have the money to buy a home, you might also need to ask around or hire somebody to help you find the most affordable property in NZ.
Pros and cons of renting
Pros
Easier to get out of lease - compared to mortgage, it's easier to terminate your lease than pay penalties and interest on a house.
No maintenance fees - you're not obliged to pay for maintenance costs if there are leaking faucets, faulty wirings, and other issues in your rented property. It's up to your landlord to pay for them and call repair services.
Cons
Higher rent rates - rental fees depend on the market and you don't have control over it.
No tax returns - you're not subject to any tax deductions or equity at the end of the year.
Less freedom to renovate - while you can make minor changes, you won't be able to change your entire bathroom or kitchen the way you want.
Buying a house
It's not the endgame for those of you who can't buy a house (for now). You're not alone. It's becoming increasingly difficult to look for a place that's within walking distance to work, has a friendly neighbourhood, and most importantly, within your budget.
Average cost of a house in NZ
As of March 2021, REINZ has reported one of the highest median house prices in NZ at $826,300. That's a $46,300 increase since February 2021.
Here are the cities/regions with the most expensive houses in NZ:
| | |
| --- | --- |
| Region/City | Median House Price |
| Auckland | $1,120,000 |
| Wellington | $882,700 |
| Bay of Plenty | $822,000 |
| Tasman | $801,000 |
| Otago | $700,000 |
There are many factors to consider when owning a house. It's not just about the pricing, it also involves maintenance and the number of occupants you have.
When you have a family, living in your own house gives you more freedom especially if you like to do things your way. But of course, you will still need to ask yourself, am I ready for this?
How much do I need to deposit to buy a home?
Lenders normally ask for 20% of the house price upfront to reduce risk in case you fail to pay your monthly mortgage or other property expenses. You can also increase your deposit according to how much you are willing to pay.
Guide to buying a house
Whether it's your first time buying a house or looking to move to a bigger home, you should remember that it can take years for you to fully pay for your house. To ensure that you're all set, here are some reminders before signing on a house.
Set your budget

Lookup on properties online

Conduct the necessary inspections like insulation, heating, plumbing and drainage system inspections.

Make an offer

Register the title

Set up utilities
Apply for a First Home Loan Scheme
Luckily for those who are just starting to buy a property, finding a deposit is now made easier. This helps families who can make regular repayments but have trouble paying for a home deposit. With First Home Loan, you're only required a 5% deposit and the rest will be shouldered by any of the participating banks of your choice
Your home loan is underwritten by Kāinga Ora, a government arm that aims to give Kiwis financial solutions when it comes to purchasing their first home.
Other mortgage companies also offer affordable rates to accommodate all types of applicants. However, some of these lenders conduct credit checks before considering your application, so make sure to work on your credit score or settle accumulating debts that you have.
Get the best mortgage rate in NZ when you compare using the glimp comparison tool!
Pros and cons of buying a house
Pros
Selling at a higher price - as years go on, your property will likely increase in value depending on the market conditions and proper maintenance. When you decide to purchase another property, you can sell your current house that you bought for $300,000 to $350,000 to $400,000.
More privacy - having ownership of your property or home means you get to enjoy all the space and make use of it for whatever purpose you want.
Cons
More expenses - apart from bills and utilities, you have other financial responsibilities as a homeowner. This includes paying for taxes, homeowner association fees, and monthly expenses. Not to mention food allowance for the kids and matriculation.
Maintenance costs- it's your job as a homeowner to ensure that everything is working fine. When you miss home inspections such as your drainage and pipeline, you may need to pay for large maintenance costs and other upkeeping of your home.
Glimp's Mortgage Calculator is here to help you estimate the cost of your new home, lease, or rental property for when the right time comes.